Now that autumn has arrived here (yes, I know it's only September 4th and Labor Day is coming up but I've been ready for Fall since last winter. Anyway, it's the perfect time to put away those beach books and cozy up with a few cozies, a nice warm blanket, a purring cat or canine companion, and all the hot drinks you could possibly desire. After all, the season, with its early nights and a little nip of cold air in the air, calls for a good deal of serious reading. So, let the to-read list begin!
Peggy Jean Turner Mysteries by Kate Borden
If you love a good cozy mystery, then the Peggy Jean Turner series is a perfect choice. First, it starts with "Death of a Tart" and then takes a turn, taking place between Thanksgiving and Halloween. This takes place at the beginning of fall. The very unpleasant occurrences of vile crimes, such as homicide and criminal investigation, occurred in the little quaint Connecticut town of Cobb's Landing, which in book one is giving consideration to revitalizing its colonial beginnings.
The management of the revitalization is under the control of a single mother, who is also a recovering widow and an ex-mayor. The main character is a likable investigator who enjoys solving thought-out, tough riddles. Additionally, the books have life and texture, and provide a feeling of time and location. There are references to seasons, to the many hues and sounds of fall, and to the mundane day-to-day events that comprise a fulfilling existence. After finishing Death of a Tart, you'll want to immediately start the next book in the series, and after that, the next, and before you know it, you'll be wishing the series was longer.
From the Amazon description – As mayor of the broke New England town of Cobb's Landing, Peggy Jean Turner is thrilled with the idea of creating "Colonial Williamsburg in Cobb's Landing." All goes swimmingly, until the town tart turns up dead–and Peggy must risk everything to solve the crime.
You can learn more about the author here – https://amzn.to/3zDJoDV
Chocolate Chip Cookie Murder by Joanne Fluke
Even before Hallmark (the well-known greeting card company) began the Hannah Swenson series, a young, anonymous author had authored a single, little-known but soon-recognized novella. The Cookie Jar in Minnesota is the only bakery/coffee shop for miles. They provide a steady stream of baked goods and a vibrant environment in a quiet area. In this shop, you will meet Hannah, a frizzy red-headed baker who will have us all in love with her and inspiring us to bake even if we don't consider ourselves bakers. Hannah didn't expect her nice social circle of friends and family to become larger, due to some romance and a murder that took place early in the morning. After an evening of lively dinner conversation and succulent steaks, Hannah is in over her head when she starts feeling strange and begins questioning everything she thought she knew about herself. Can she simply get over her need for justice within a short time period? Why don't you make some cookies and have tea on the porch with a good book?
From the Amazon description –
Discover The Delicious Mystery That Started It All!
No one cooks up a delectable, suspense-filled mystery quite like Hannah Swensen, Joanne Fluke's dessert-baking, red-haired heroine whose gingersnaps are as tart as her comebacks, and whose penchant for solving crimes–one delicious clue at a time–has made her a bestselling favorite. And it all began on these pages, with a bakery, a murder, and some suddenly scandalous chocolate-chip crunchies. Featuring a bonus short story and brand new, mouthwatering recipes, this new edition of the very first Hannah Swensen mystery is sure to have readers coming back for seconds. . .
Hannah already has her hands full trying to dodge her mother's attempts to marry her off while running The Cookie Jar, Lake Eden's most popular bakery. But once Ron LaSalle, the beloved delivery man from the Cozy Cow Dairy, is found murdered behind her bakery with Hannah's famous Chocolate Chip Crunchies scattered around him, her life just can't get any worse. Determined not to let her cookies get a bad reputation, she sets out to track down a killer. But if she doesn't watch her back, Hannah's sweet life may get burned to a crisp.
"A cleverly plotted cozy full of appealing characters and delicious cookie recipes." —Publishers Weekly
To see more books in this series and from this author, check out this link – https://amzn.to/3zFwhSI
Death of a Neighborhood Witch by Laura Levine
Jaine Austen is delightful, hilarious, and self-deprecating, and you're certain to laugh whenever you talk to her. One casual meeting with Jaine, her psychotic cat named Prozac, her eccentric neighbor Lance, and her erratic mother, who is hooked on QVC, and you'll chuckle your way through several chapters before you can fall asleep at night. Jaine's first Halloween also shows this trend. A few scandalous love affairs and some skeletons in the closet will keep you engaged. Jaine is now busy, with a strange old house, a monster mom (Cryptessa) in a Hollywood movie, Jaine at the top of the police department's most wanted list, and a task force hunting her down all competing for her attention (until she goes back to making up more jingles for her main client, Tolietmasters).
From the Amazon description –
"I'm crazy about Laura Levine's mystery series. Her books are so outrageously funny." –Joanne Fluke
When Jaine Austen's beloved cat Prozac unwittingly scares to death a parakeet belonging to the neighborhood's resident curmudgeon, Jaine finds herself knee-deep in toil and trouble. The cantankerous Hollywood has-been once played Cryptessa Muldoon, television's fourth most famous monster mom. Now she spends her days making enemies with everyone on the block. So when the ornery D-lister is murdered with her own Do Not Trespass sign on Halloween night, the neighborhood fills with relief–and possible culprits.
With a killer on the loose, Jaine hardly has time to fall under the spell of her yummy new neighbor, Peter. As the prime suspect, she summons her sleuthing skills to clear her name and soon discovers that everyone has a few skeletons in their closets. . .
"Levine's latest finds her at her witty and wacky best." —Kirkus Reviews
"Cozy fans will enjoy seeing how Jaine wiggles out of this one." —Publishers Weekly
Dead in the Pumpkin Patch by Connie Feddersen
So, this is the end of the series and it's OK. Believe me, you want to read it out of order. I started the series here too, this past fall. It's very likely that pumpkins are to blame. Amanda Hazard has worked as a pseudo-detective for a long time. Her husband is the local sheriff, and she's worked with him since they met. She found another corpse in the pumpkin field. She has an intention to find out who did it. Despite her pregnancy and being under the careful watch of her husband, Thorn, she thinks that the neighborhood Halloween party will be the perfect place to investigate some of the suspects involved in the death of the victim. She'll have to brave more danger and troubles.
Though it may occasionally harm believability, this comedic, romantic, and self-aware sitcom remains enjoyable. What better time than autumn to join in the pumpkin patch chaos? After you've finished, go back to the start of the series to follow Thorn and Hazard's romance.
From the Amazon description – Getting ready for Halloween, a very pregnant Amanda Hazard draws on her sleuthing skills when she stumbles upon the corpse of Nettie Jarvis, the elderly owner of a local pumpkin farm and the most renowned gossip in town.
Still Life by Louise Penny
Miss out on reading Louise Penny's mysteries? That would be a tragedy! Her mysteries are essential to all lovers of mystery books. Consider the following: In the quaint town of Three Pines, a tranquil setting in Quebec, the aroma of gourmet meals wafts through the air while a colorful cast of characters becomes intertwined in each other's lives, along with new snowfall and seasonal transformations. There's also the mysterious dark abyss of the human psyche. Chief Inspector Armand Gamache and his group of investigators help bring the case to a conclusion by uncovering the facts. This series, which features a dead body in the woods either by accident or revenge, will entertain you every step of the way. The investigation in the little town yields results when Gamache and his team question people in the woods and find the village quiet and tranquil. Penny uses her gift of characterization to make stories captivating and entertaining. When you start with one Penny book and like it, you'll start with one and soon finish the whole series.
From the Amazon description – Winner of the New Blood Dagger, Arthur Ellis, Barry, Anthony, and Dilys awards.

Chief Inspector Armand Gamache of the Surêté du Québec and his team of investigators are called in to the scene of a suspicious death in a rural village south of Montreal. Jane Neal, a local fixture in the tiny hamlet of Three Pines, just north of the U.S. border, has been found dead in the woods. The locals are certain it's a tragic hunting accident and nothing more, but Gamache smells something foul in these remote woods, and is soon certain that Jane Neal died at the hands of someone much more sinister than a careless bowhunter.
Still Life introduces not only an engaging series hero in Inspector Gamache, who commands his forces—and this series—with integrity and quiet courage, but also a winning and talented new writer of traditional mysteries in the person of Louise Penny.
Learn more about the author and her other books here – https://amzn.to/3mVmu7j
The Quiche of Death by M.C. Beaton
For those who like their cozy mysteries with a heavy injection of comedy, Agatha Raisin's novels will do the trick.  While Agatha has moved to a serene Cotswold hamlet, she has regrettably chosen to retire due to moving from the active London public relations industry. But when sharp-tagged Agatha is around, life rarely stays quiet. And her involvement in the local baking contest—in which her entry almost kills the girl who refuses to let her participate—is only one example of how Agatha's antagonistic, outspoken nature comes into play. To clear her name and arrest a serial killer, Agatha has to go further into her charming little town to form new friendships and bring a killer to justice. We want readers to be interested by a heroine that is strong and somewhat self-aware, and even if Agatha does not initially like her town, we will still grow to like it!
From the Amazon description –
The first book in M. C. Beaton's New York Times bestselling Agatha Raisin series―now a hit show on Acorn TV and public television.

Putting all her eggs in one basket, Agatha Raisin gives up her successful PR firm, sells her London flat, and settles in for an early retirement in the quiet village of Carsely. But she soon finds her life of leisure isn't all it's cracked up to be.
Bored, lonely, and used to getting her way, she enters a local baking contest: Surely a blue ribbon for the best quiche will make her the toast of the town. But her recipe for social advancement sours when the judge, Mr. Cummings-Browne, not only snubs her entry but also falls over dead! After her quiche's secret ingredient turns out to be poison, she must reveal the unsavory truth. . . .
That is, Agatha has never baked a thing in her life! In fact, she bought her entry ready-made from an upper-crust London quicherie. Grating on the nerves of several Carsely residents, she is soon receiving sinister notes. Has her cheating and meddling landed her in hot water, or are the threats related to the suspicious death? It may mean the difference between egg on her face and a coroner's tag on her toe. . . .
The Quiche of Death, the first book in this beloved series, is now a Minotaur Signature Edition, complete with a discussion guide and essay by the author.
To learn more about the author and the other books in this series, check out this link – https://amzn.to/3BuSkMc
On What Grounds by Cleo Coyle
Coffeehouse Mysteries, which is one of my favorite series of cozy mysteries to read, continues to thrive. The series follows Clare Cosi and her ex-husband, both of whom work at a coffee shop owned by Clare's ex-mother-in-law, who has not died (and very active). In spite of their odd connections, everything was going well for Clare in her first novel, coming from her suburban life. The one problem in the operation has always shown up in the past, and it took place this time just after Clare took on her new job. Clare's suspicions are raised when she meets Mike Quinn, the alluring NYPD detective who's certain that the murder is nothing out of the ordinary. A gripping tale unfolds in which everything a reader could possibly want can be found: engaging romance, exciting mystery, riveting mischief, delicious cuisine, and a nice hot murder on the side.
From the Amazon description –
The first charming mystery in the New York Times bestselling Coffeehouse Mystery series—where caffeine and crime are always brewing…
Clare Cosi used to manage New York City's historic Village Blend coffeehouse, until she opted for quieter pastures and a more suburban life. But after ten years away she's back in action and back to the grind, serving up steaming hot caffeine one cup at a time.
With a sprawling rent-free apartment directly above the coffeehouse, her cat Java by her side, and plenty of redecorating ideas, Clare is thrilled to return to work—until she discovers the assistant manager dead in the back of the store, coffee grounds strewn everywhere.
NYPD Detective Mike Quinn finds no sign of forced entry or foul play and deems the whole thing an accident. But despite the attractive investigator's certainty, Clare isn't convinced. Now, if she wants to get to the bottom of things she'll have to do some sleuthing of her own—before anyone else ends up in hot water…
Includes recipes and coffee-making tips!
To learn more about the author and the other books in this series, check out this link – https://amzn.to/2WKHIKa
The Body in the Library by Agatha Christie
Miss Marple is on every cozy mystery lover's top-ten list, along with Agatha Christie. Despite her own strange quirkiness, Miss Marple's years of dealing with the nastiness of humanity (not to mention her experience with what people are willing to do and the foulness that resides within each of us) has equipped her with a great ability to tell the truth from the lies. When her good friends Colonel and Mrs. Bantry come to her with a freshly discovered corpse in their lovely library, t seems like everyone is a suspect. And it's possible that someone's involved just for the sake of the pleasure of killing a famous person. Discovering a missing car that contained a second burnt body increases the likelihood of a psychopath wandering the area. Miss Marple thinks the murders started lately, despite the fact that there are many other suspects and motives that don't match the evidence. Miss Marple is a clever investigator, and she is always in control of the situation, even if she is caught off guard. Library books are off the shelves, doors are closed, and you can start to work.
From the Amazon description –
In this exclusive authorized edition from the Queen of Mystery, the iconic Miss Marple must investigate the case of a girl found dead.
It's seven in the morning. The Bantrys wake to find the body of a young woman in their library. She is wearing an evening dress and heavy makeup, which is now smeared across her cheeks. But who is she? How did she get there? And what is the connection with another dead girl, whose charred remains are later discovered in an abandoned quarry?
The respectable Bantrys invite Miss Marple into their home to investigate. Amid rumors of scandal, she baits a clever trap to catch a ruthless killer.
To learn more about this author and her other books, please click the link – https://amzn.to/3t7NAcB
Chef Maurice and a Spot of Truffle by J.A. Lang
I'm heading back to the Cotswolds, where you can enjoy a charming village story full of suspense, a Poirot-esque chef, and a little evil murder. Chef Maurice's story in the first novel in a planned three-part series starts suitably enough in autumn, with the protagonist having to search for mushrooms due to his trusty supplier (the much hated Ollie Meadows) has gone missing. Chef Maurice, a plump chef and restaurateur, makes the decision to personally deliver the meals himself to prevent future deliveries being missed. In the kitchen, he moves smoothly, despite his culinary desires being just seconds away from fulfillment. After finding a few spectacular truffles at his friend Ollie's home, Maurice finds he and his long-time friend Arthur have time to search for more truffles in the woods as the other guys at the dinner party enjoy themselves. In general, before you acquire a truffle hound, you will want to get a micro-pig, in some circumstances. Unfortunately, a setback is expected for the truffle business, since the pig is known to uncover more than simply truffles. It's obvious that the stakes have been increased since there's a dead body in the woods. Is Maurice going to be able to find the assassin and the missing truffles, saving the gourmet business from its expected crash?
From the Amazon description –
"They say one should never trust a thin chef. By this measure, Chef Maurice was very trustworthy indeed."
Take one sleepy Cotswold village, mix in one Poirot-esque murder mystery, add a larger-than-life French chef with an appetite for solving crime, and season with clues and red herrings galore . . .
It's autumn in the Cotswolds, and Chef Maurice is facing a problem of mushrooming proportion.
Not only has his wild herb and mushroom supplier, Ollie Meadows, missed his weekly delivery—he's missing vital signs too, when he turns up dead in the woods near Beakley village.
Soon, Chef Maurice is up to his nose in some seriously rotten business—complete with threatening notes, a pignapping, and an extremely well-catered stake-out.
Can he solve Ollie's murder before his home-made investigation brings the killer out for second helpings?
To learn more about the author and the other books in this series, click this link – https://amzn.to/3kPWBmH
Grandma Bertha Solving Murders: The Convenient Cadaver by Matt Ferraz
After reading a cozy mystery, take a moment to enjoy some cuddles with your kitty as the season of comfort sets in. The first book in the Grandma Bertha Solving Mysteries series introduces a unique elderly lady who drinks beer at any time of day and loves horror flicks. This quirky woman must also deal with a very clever killer. Readers in the end get a free-spirited adventure that will make them feel comfy as well as offer them a little pleasure that comes from some daring maneuvers pulled off by a smart protagonist. It all starts with a conversation that's quickly interrupted by a murder in an alley. It's just beer, horror movies, and old lace.
From the Amazon description – When Grandma Bertha moved to her son's place, she brought along three dogs, several cases of beer and many, many horror film DVDs. While her daughter-in-law insists on the idea of sending Grandma Bertha to a retirement home, a dead girl appears near the house, shot three times in the back. Many years ago, Grandma Bertha let a murderer escape for not trusting in her own detective abilities. Now, armed with her wit and wisdom, she decides to solve that crime before the police. Could this crazy dog lady be a threat to a cold-blooded killer? And for how long can the family stand that situation?
To learn more about the author and the rest of the books in this series, click this link – https://amzn.to/3BuUtHQ
Well, I hope you added some books to your fall TBR. If you did and you actually read them, I would love to hear what you thought of it. If you have a book to add to this list, let me know.
Thanks for stopping by.
Make a one-time donation
Make a monthly donation
Make a yearly donation
Choose an amount
Or enter a custom amount
$
---
Your contribution is appreciated.
Your contribution is appreciated.
Your contribution is appreciated.
Donate
Donate monthly
Donate yearly
Well, train wrecks. Here we are. We made it to 2021. And if your social media feed looks like mine, you've already been inundated with New Year New Me posts.
That's all well and good. It's a great thought and sentiment. But when you look at the fact that most people give up their resolutions by January 19, you realize that maybe they never wanted to be new. Just improved.
That's what I want at least. I don't want to be a new me. I'm ok with many aspects of my me-ness. What I need to work on are the not so stellar parts. Some are easier to deal with and change.
And because I've wanted to be an improved train wreck, I've spent every day since Christmas hyperfixating on things I feel make me a not so great human and what I need to do to change that. And I found a lot
Because of the pressure I've put on myself, I've now developed hives and my hair is falling out. I've also been stress eating and put on half the weight back on that I've lost this year. See, I've got big goals for myself. And the say if your dreams don't scare you then they're not big enough. Mine are so big I've been having nightmares. Fan friggen tastic. Because why not give myself anxiety over trying to be a better person, amirite?
My goals for this year included, editing my NaNoWriMo project and publishing it, editing my first book for audio, doing a book signing, paying for marketing, writing at least three books, and by the end of the year, making $500 a month. This includes a newsletter, blogging, vlogging, tiktoking, On top of working full time and family life with three kids, a husband, and a dog.
It's the second day of the new year and I already feel like I'm failing. I was supposed to get the first three chapters out to my beta readers. I was supposed to have chapter 4 edited today. I should have been working on a newsletter and mailing list. Merch. Marketing. Excuse me while I pop more Benadryl.
Now, let me be clear on this. Not one member of my family is putting an ounce of pressure on me. This is all me. Apparently I feel like hating myself and causing myself more pain and frustration is the path to true happiness.
What the hell is wrong with me?
What I really need are some goals and ways to improve that won't cause me to have a breakdown by MLK day. So, here we go. Goals for train wrecks.
I will take more than one shower a week. I don't have to wash my hair. Just get in, lather, rinse.
Brush teeth at least once a day. Even if I'm not going to work. Even if I'm not going to Walmart.
Change out of clothes once a day. Shirt and pants.
I will put more in my stomach than just caffeine before noon.
I will put more in my stomach than just chocolate after noon.
I will put more in my stomach than just alcohol after work.
I will not judge my accomplishments against others'. They are not me. I am not them.
I will remember that sometimes my mental illnesses are too big for me to fight when I'm hungry or tired. Rest is not for the weak. I am not weak.
I will remember this: The experts are wrong and tout their ideas to sell books. There is nothing wrong with my kids and I'm a good mom.
I will hug my babies good night. I will kiss my husband more. I will read more stories. I will put my phone down when they talk to me. I will be more present for them. Because they deserve better.
So, there's my train wreck goals. I think they're a little more sustainable. What are your goals? What do you hope to accomplish this year? Remember, 2021 has it easy. It doesn't have to be the best. It just has to be better than 2020. I think that's something we can all do.
Good luck, train wrecks.
Choose an amount
Or enter a custom amount
$
---
October 2010, I waited, quietly, anxiously, for the premiere of The Walking Dead on AMC. I should have been in St Louis on a business trip. Instead, I sat watching the clock for the moment it would start. I was not disappointed.
Being the zombiphile that I am (that's someone who loves zombies, not in a weird way) it was almost law for me to watch this. And from the start, I was hooked. From the first 5 minutes to the last 5 minutes, this show is the perfect example of what a drama should be. The writing, the scripts, the cast. it all comes together in perfect bloody harmony.
Does the story line follow the graphic novels (love that phrase by the way) word for word? No, And I am really glad it doesn't. Where would the surprise be? The mystery, the intrigue? I know there are purists out there complaining about the addition of characters and such. Seriously? There is only so much that can fit inside a comic book (there, I said it.) This is an hour long show. Something's going to have to give.
I actually got into it with a local radio host over The Walking Dead and Boardwalk Empire. Although he had never seen Walking Dead due to it's scary nature, he proclaimed Boardwalk Empire to be far superior to a bunch of shambling, moaning brain eaters. Ding ding ding. Round one. Boardwalk Empire is about the former glory days of my old stomping grounds, Atlantic City. Having grown up in that environment I can tell you the only drama and suspense that comes from gambling is wondering how you're going to pay the sharks. There is nothing glorious or glamorous about gambling. I understand there are the personal relationships and all that. Those don't last in a place where money is king. Personal experience. True story, film at 11. Anyway, with Walking Dead, You get to know the characters, their stories. And you really do think to yourself, If I had to make the choice to shoot my friend or family memeber, would I? Could I? And then you see characters you've grown to love turned into these undead beings and you see their family making the same choice.
Now, the graphic novels are amazing. They're the whole reason we're talking about this. They are beautifully drawn. Just stunning. And the story lines, you are truly drawn into their world. And I absolutely love that the whole thing has now spawned actual novels. I have a feeling the novels are more for the people who have read the graphic novels and not just relied on the television show. The first book starts with the life story of a character that I hope will turn up in the show.
Right now, I am sitting, reliving the excitement, waiting for season where are we at now to start. I found my on demand has season 1 right now. Not like I don't own it on BluRay but hey, now I don't have to go through getting up off my couch. I can sit, like a zombie, and stare in all the undead goodness.
If you like the Walking Dead, show or books, can I get a BBBRRRAAIIINNNSSS?

Q. What do goblins and ghosts drink when they're hot and 
thirsty on Halloween? A. Ghoul-aid!!!
Q. What is a Mummie's favorite type of music? A. Wrap!!!!!
Q. Why do demons and ghouls hang out together? A. Because demons are a ghouls best friend!
Q. What's a monster's favorite bean? A. A human bean.
Q. Why can't the boy ghost have babies? A. Because he has a Hallo-weenie.
Q. What do you call a witch who lives at the beach? A. A sand-witch.
Q. Where does a ghost go on Saturday night? A. Anywhere where he can boo-gie.
Q. What did the skeleton say to the vampire? A. You suck.
Q. What do ghosts say when something is really neat? A.Ghoul
Q. Why did the ghost go into the bar? A. For the Boos.
Q. Why was the girl afraid of the vampire? A. He was all bite and no bark.
Q. Why did the game warden arrest the ghost? A. He didn't have a haunting license.
Q. Why didn't the skeleton dance at the party? A. He had no body to dance with.
Q. Where does Count Dracula usually eat his lunch? A. At the casketeria.
Q. What happens when a ghost gets lost in the fog? A. He is mist.
Q. Where did the goblin throw the football? A. Over the ghoul line.
Q. Why doesn't Dracula mind the doctor looking at his throat. A. Because of the coffin.
Q. Why is a ghost such a messy eater? A. Because he is always a goblin.
Q. What do you call a goblin who gets too close to a bonfire? A. A toasty ghosty.
Q. Why did the Vampire read the Wall Street Journal? Q. He heard it had great circulation.
Q. What tops off a ghost's ice cream sundae? A. Whipped scream.
Q. What do you give a skeleton for valentine's day? A. Bone-bones in a heart shaped box.
Q. What are ghosts' favorite kind of streets? A. Dead ends
Q. What is a vampires favorite holiday? A. Fangsgiving
Q. What kind of makeup do ghosts wear? A. Mas-scare-a.
Q. Why did the skeleton cross the road? A. To go to the body shop.
Q. What happens when two vampires meet? A. It was love at first bite!
Q. Who was the most famous ghost detective? A. Sherlock Moans.
Q. What do you call two spiders that just got married? A. Newlywebbed
Q. What is a ghosts favorite place on the web? A. http://www.halloween.com!
Q. Who was the most famous witch detective? A. Warlock Holmes
Q. What did the ghost say to the man at the coffee shop? A. Scream or sugar!
Q. Who was the most famous skeleton detective? A. Sherlock Bones.
Q. Who was the most famous French skeleton? A. Napoleon bone-apart
Q. Which building does Dracula visit in New York? A. The Vampire State Building.
Q. Where do most werewolves live? A. In howllywood, California
Q. Where do most goblins live? A. in North and South Scarolina.
Q. Where does a ghost refuel his porche? A. At a ghastly station.
Q. What do Italian's eat on Halloween? A. Fettucinni Afraid-o (Ha ha ha)
Q. Why did the skeleton go disco dancing? A. to see the boogy man.
Q. What do witches use in their hair? A. scare-spray
Q. What do you call a little monsters parents A. mummy and deady
Q. What do you get when you cross a black cat with a lemon. A. sour-puss
Q. How do you scare a mummy A. with a yummy dummy in a crash test crummy.
Q. What do you get when you cross a vampire with the internet? A. blood-thirsty hacker baby
Q. What do you get when you cross a pumpkin with a squash? A. a squashed pumpkin pie.
Q. Why do ghosts shiver and moan? A. It's drafty under that sheet.
Q. What instrument do skeleton play? A: Trom-BONE.
Q. What do ghosts eat for breakfast? A. Boo-Berries.
Q: Why did't the skeleton cross the road? A: He had no guts.
Q. Why do vampires scare people? A. They are bored to death!
Q. How can you tell a vampire likes baseball? A. Every night he turns into a bat.
Q. What's it like to be kissed by a vampire? A. It's a pain in the neck.
Q. How can you tell when a vampire has been in a bakery? A. All the jelly has been sucked out of the jelly doughnuts.
Q. What songs does Dracula hate? A. "You Are My Sunshine" and "Sunshine on my Shoulders.
Q. What did the Mummy movie director say when the final scene was done? A. Ok, that's a wrap.
Q. How does a girl vampire flirt? A. She bats her eyes.
Q. What is a vampires least favorite food? A.Steak
Q. What's it called when a vampire has trouble with his house? A. A grave problem.
Q. Why doesn't anybody like Dracula? A. He has a bat temper.
Q. Why did Dracula go to the dentist? A. He had a fang-ache.
Q. Why are vampires like false teeth? A. They all come out at night.
Q. Who does Dracula get letters from? A. His fang club.
Q. What kind of key does a skeleton use? A. A skeleton key.
Q. What kind of gum do ghosts chew? A. Boo Boo Gum.
Q. Why did Dracula take cold medicine? A. To stop his coffin.
Q. Why does Dracula wear patent leather shoes? A. Sandals don't look good with his tuxedo.
Q. How do you keep a monster from biting his nails? A. Give him screws.
Q. What can't you give the headless horseman? A. A headache.
Q. Why did the headless horseman go into business? A. He wanted to get ahead in life.
Q. What is a ghosts favorite sale? A. A white sale.
Q. What kind of tie does a ghost wear to a formal party? A. A boo-tie.
Q. What's a ghosts favorite desert? A. Boo-berry pie.
Q. What type of dog does every vampire have? A. Bloodhound!
Q. What's a monsters favorite desert? A. I-Scream!!
Q. 1ST PERSON: KOCK,KOCK 2ND PERSON: WHO'S THERE 1ST PERSON: PHILLIP 2ND PERSON: PHILLIP WHO ? 1ST PERSON: ÊFILL UP MY BAG WITH CANDY !!! 2ND PERSON: HA,HA,HA (LOL) Q. Why do girl ghosts go on diets? A. So they can keep their ghoulish figures.
Q. When does a ghost have breakfast? A. In the moaning.
Q. What do ghosts drink at breakfast? A. Coffee with scream and sugar.
Q. Where does a ghost go on vacation? A. Mali-boo.
Q. Where does a ghost go on Saturday night? A. Anywhere where he can boo-gie.
Q. Where did the ghost get it's hair done? A: At the boo-ty shop.
Q. Riddle: the maker does not want, it the buyer does not use it, and the user does not see it, what is it? A. a coffin.
Q. What do they teach in witching school? A. Spelling.
Q. Why does a witch ride a broom? A. Vacuum cleaners get stuck at the end of the cord.
Q. What do you call a witch's garage? A. A broom closet.
Q. What do you call two witches living together? A. Broommates.
Q. Why don't mummies take vacations? A. They're afraid they'll relax and unwind.
Q. What is a witch's favorite subject in school? A. Spelling
Q: Why can't Boy Ghosts make babies?? A: Because they have Hollow-Weenies!
Q. Why did the man with a knife in his head cross the street? A. He was dying to get to the other side!!
Q. Where do ghosts go out? A. Where they can get boooooo-ze.
Q. Where do ghosts go out? A. Where they can get sheet-faced.
Q. What did the mother ghost say to her kids in the car? A. Fasten your sheet belts.
Q. Why didn't the skeleton go to see a scary movie? A. He didn't have the guts.
Q. What did the corpse' mom do when her son was bad? A. Ground him
Q. Why was the mummy so tense? A. Because he was all wound up.
Q. Why did the vampire need mouthwash? A. Because he had bat breath.
Q. Why don't ghost have bands? A. They get booooooooooed.
Q. What do you call a monster who poisons corn flakes? A. A cereal killer.
Q. Who are some of the werewolves cousins? A. The whatwolves, the whowolves and the when wolves.
Q. What did the bird say on Halloween? A. Trick or tweet!
Q. Why do skeletons drink milk? A. To help their bones!
Q. What's a Vampire's least favourate song? A. Another one bites the dust!
Q. What is a Skeleton's favorite song. A. Bad to the Bone
Q. Whats a ghost's favorite type of car? A. A boo-ick
Q. Where do ghost go for fun? A. To the boo-vies
Q. What's a skeletons favorite part of the house? A. the living room
Q. What did the teenage witch ask her mother on Haloween? A. Can i have the keys to the broom tonight.
Q. What do u get when theres a witch in the desert? A. You get a sandwich.
Q. Why do ghosts like to ride elevators? A.it raises their spirits.
Q. Why can't a Skeleton Lift Weights? A. He's all bone & no muscle.
Q. What is a vamire's favorite fruit? A: A necktarine
Q. What do the skeletons say be for eating? A. Bone appetite
Q. What do gosts call there girl friends? A. There goul friends.
Q. How did the ghost say goodbye to the vampire? A. So long sucker!
Q. What did the goblin say to the witch? A. I don't know you tell me!
Q. Why dident the skeleten go to the halloween party? A. Becuse he had no body to go with.
Q. What is a ghost's favorite band? A. The Boos Brothers
Q. What did Dracula have for dessert? A. Whine & Ice scream
Q. What is Dracula's favorite restaraunt? A. Murder King
Q. What is a Ghost's favorite food? A. HamBoogers
Q. What is in a ghost's nose? A. Boogers
Q. What was the mummies' vacation like? A. Nobody knows. They were too wrapped up to tell us.
Q: What did tha boy ghost say to the girl ghost? A: You are the most booooooooo-tiful thing I have ever seen!
Q. Why does a cemetery have to keep a fence around it? A. Because people are dying to get in.
Q. What do you give to a pumpkin who is trying to quit smoking? A. A pumpkin patch!!!
Q. Where do vampires keep their money? A: The blood bank!!!
Q. Who are some of the were-wolves cousins? A. The what-wolves and when-wolves.
Q. What did Dracula say after reading all these jokes? A. They suck! (or they bite!)
Are you hosting a Halloween party for your kids at home, or helping with a classroom party? Providing engaging games and activities to entertain sugar-fueled children will prevent your guests from becoming little Halloween monsters.
Pumpkin Pass Along
Before the party, make some jack-o-lanterns using orange rubber balls (about the size of oranges) and a permanent marker. You'll need one for each team. Divide the players into teams.
To start the game, place the "jack-o-lantern" under the chin of the first player. That player passes the "jack-o-lantern" to the next player without using hands and then to the next player and so on.
The first team to pass the pumpkin all of the way through the line wins.
You can also play this game by passing the Pumpkin from player to player using hands behind the back which isn't quite as fun but also does not require the players to get so "personal ".
Mummy Wrap Relay
Divide the players into groups. I find groups of three or four work best.
Each group needs a player that is the "mummy" and the other players are the "wrappers"
Provide each group with a roll of toilet paper. The object of the game is to be the first group to wrap a mummy using the entire roll of tissue.
Trick or Treat
Before the party cut several strips of paper; about twice as many strips as there are children.
Then on half of the strips write the word "treat". On the other half write "trick" with a trick such as "hop on one foot", "pat your head and rub your belly"
Then place all of the strips in a Halloween bag. Have the children form a circle.
Walk around the circle. Each player will draw a paper out of the bag and perform a trick or receive a treat such as a sticker, Halloween pencil or small piece of candy.
Ring the Pumpkin
You'll need a large pumpkin with a nice long stem.
If you have rings from a summer yard game, use those or make your own rings with thick rope and duct tape. Take turns attempting to get your ring around the stem of the pumpkin by tossing it from a distance – like a ring toss or horseshoe game.
Pumpkin Bowling
Have you ever tried to roll a pumpkin in a straight line?
Make your pins using empty plastic soda bottles, filled half way with sand or water.
Then roll a medium or small pumpkin into your pins…. just like you would a bowling game.
It's much harder than you'd think, especially if you play the game on the lawn.
Get Crafty
An easy craft is always a great addition to a party.
Face Paint
Enlist a talented teen to help at your party by add small features to existing costumes or small Halloween images onto party guests cheeks; pumpkins, ghosts and spider webs are easy to make.
If you are helping with a classroom party, bring some face paint along.
It's not uncommon for there to be children without costumes.
They'll feel much better with a little face paint application.
MONSTER HANDS
Surprise party guests or classmates with a spooky snack!
You'll need:
Clear disposable plastic gloves,
prepared popcorn,
red or green small gum drops and
spider rings (optional).
Place a gumdrop into each finger of the glove (these are the fingernails) fill glove with pop corn.
Tie off the end of the glove with a rubber band or ribbons.
Add a spider ring for fun.
Until next time..keep life fun and festive
Bobbing for apples isn't always the best Halloween game. Especially if you have very small children. Here are some ideas for the smallest trick or treaters to have fun at your Halloween party.
One of my all time favorites is Pin the whatever on the whatever. Let me explain. Pin the wart on the witch. Pin the witch on the broom. Pin the electrodes on the Frankenstein. Pin the fangs on the vampire. You get the drift. Use stickers that are reusable.
Another is Mummy Wrap. This is where someone, like a parent or teacher, stands still long enough to get wrapped in toilet paper. One ply is cheaper and a bit easier to break out of after words.
Then there's Spider Toss. Make a web from contact paper and toss little pompoms in to the web and have them stick. You can even go to the dollar store and pick up some little plastic bugs.
You could paint some milk jugs like pumpkins or mummies and go bowling.
Bone relay races. You could paper mache the bone or just go to the Halloween aisle of the dollar store.
Toss the bugs into the cauldron.
You could get some stickers and decorate some orange balloons like Jack O'Lanterns. There's always face painting or tattoos.
Have them decorate their own treat bags.
You could have them paint T shirts.
Or they could make reflective necklaces for Trick or Treating. Great for lacing and fine motor skills.
There's always mini pumpkin toss.
I hope this gives you some ideas.
One of my all time number one favorite books would have to be "The Zombie Survival Guide" by Max Brooks. I came across this book several times while on Myspace. Jay, Grant, Steve and Brian from the SyFy channel series "Ghost Hunters" liked it. At a church function, a girl was trying to convince her parents that the church needed to be a stronghold defense against a zombie attack.
So, yeah, I was curious. I got it. I devoured (heehee) it in less than a day. And I have to say you look at the world a little different after reading it. I noticed I checked out my house, my sister's apartment complex, and our places of employment to see how they would rate against even a minor class two invasion.
I'd have to say we would fare better at my sister's apartment. Better vantage points for sniping the buggers in the head and her brother has a good lot of weapons (paintball guns) that could be used for defense. Plus it's on the second floor and zombies are not so good at opening doors or climbing stairs. Downfall, she lives near a hospital which would most likely be the epicenter of an outbreak.
Now, I'm not saying zombies can't climb, but they aren't very good at it. I mean rotting limbs and all can only do so much. don't underestimate them. They are tenacious. I mean, they don't feel pain, so banging a door down after 36 solid hours of pounding on it with your dead rotting arm will not bother them. It will, however, bother you. I mean, you know what it's like when someone keeps ringing your doorbell like 15 times. Imagine that for 36 hours except the person knocking doesn't want to save your soul they want to eat you.
And it won't be just one. I guess they can hear a sniffle from a hundred miles away. Any pounding or shotgun shots would be heard by every zombie in a hundred-mile radius. Which would suck for me and my sister because we work in daycare. Meaning screaming, crying children. We'd be like zombie central. .
But, at least I've read the book and I'm prepared.
This is an older article I wrote about 4 years ago. No Mine Train. No Belle's Enchanted Tales. Just the classics at that time. Enjoy.
Going to Walt Disney World? Click here for magical planning tips.

My all time, number one, must do, classic rides at the Magic Kingdom at the Walt Disney World Resort.
I'm a Disney spaz. My first trip to the house of mouse was 1994. I was 16. It was love at first sight. I have since been more than twenty times in various stages of my life, teen, single and twenty, engaged, married with children from 7 months to 13 years old. It helps when your parents are Disney vacation club members.
I've been to Disney enough to see it evolve into the all inclusive, you just got to go once and you'll be hooked vacation of a lifetime destination that it is today.
Over the course of time, the higher ups decide which rides are popular and which have become out dated. Some, they try to update like Pirates of the Caribbean. Others go the way of Mr. Toad's Wild Ride. This is a list of what I consider to be classic, tried and true rides that I hope stay long enough for me to ride and enjoy with my grandkids.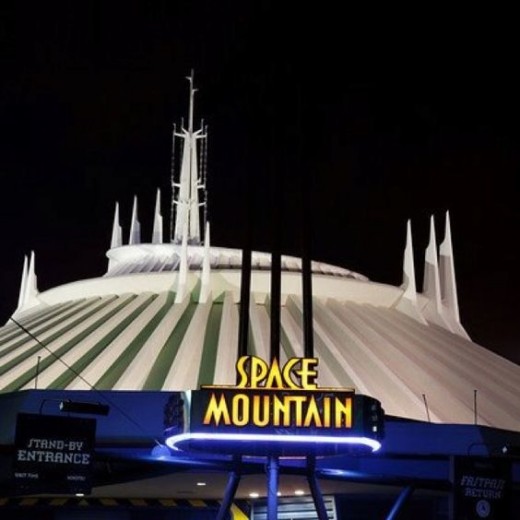 10. Space Mountain
This is just a fun ride. Its a fantastic, crazy mouse type roller coaster in the dark. Of course, in true Disney fashion, it comes complete with light and sound effects to make it feel you're going much faster than you actually are. What really sells it is the atmosphere. Standing in line is fun with interactive games and galactic pictures to keep your mind off the waiting game. Look up. Look down. Look all around. Just don't forget to keep the line moving. And speaking of looking up, look up to see the famous chocolate chip cookie asteroids. Oh, and get a Fast Pass. The lines may be nuts. Save yourself some time and aggravation.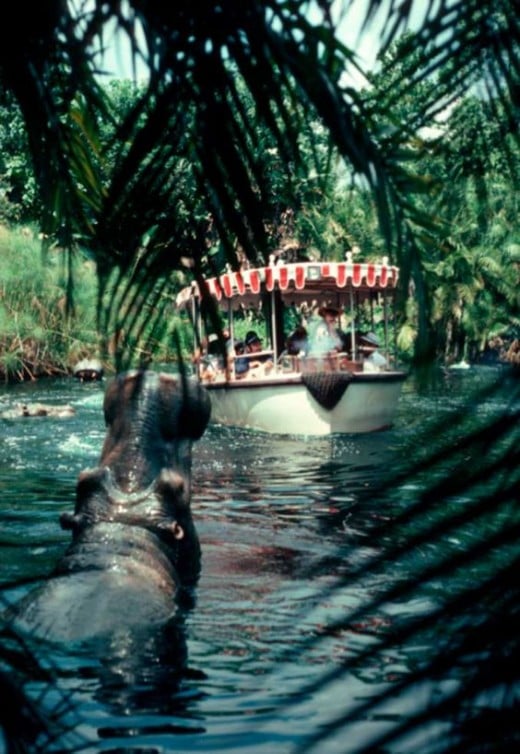 9. Jungle Cruise
I'll admit it. At one point, my dream job was Jungle Cruise Boat Captain. This ride is as cheesy as I am. The jokes are corny and punny and will illicit more than one groan from tourists. But, I love them so much. Theme is a huge part of the enjoyment factor. In line, look for the huge, creepy tarantula that moves in its box and the menu promising everything tastes like chicken. Jungle Cruise is a great sit back and enjoy the ride and the opportunity to get off your feet. And where else can you see the backside of water?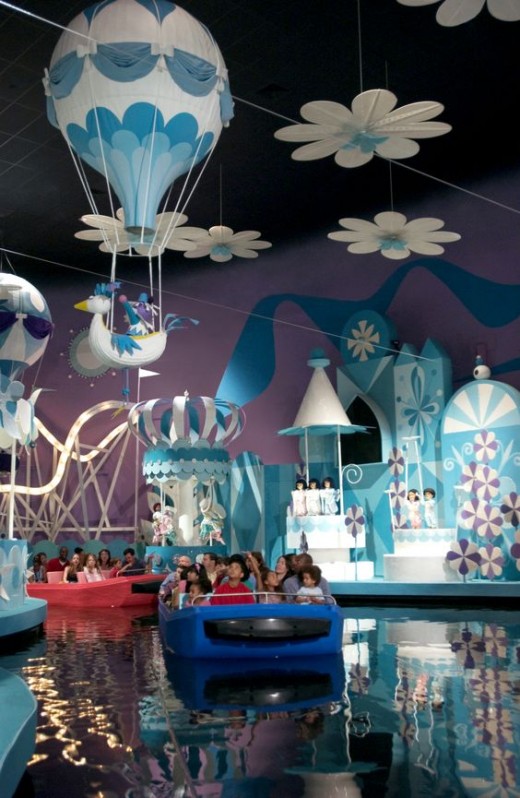 8. It's a Small World
This is the quintessential Disney ride. Children singing, color, a catchy tune playing ad nauseum until you find yourself humming along. This is such a must do ride. Even if you just ride it once you have to ride it. I've yelled at people when they tell me they went to Disney World and didn't ride this. How can you not? This ride was Walt's baby. Now, I have a love hate relationship with this attraction. I hate the song and how it infiltrates your brain. I love the message of the ride, peace, love, harmony with our fellow people. Some people request to have their ashes dumped in the water. Such a thing will have you quickly escorted off property. Amazingly, for as many people complain about this ride you'll need a Fast Pass to bypass the line. But you still have to do it. Even if it is just once as I told my ten year old.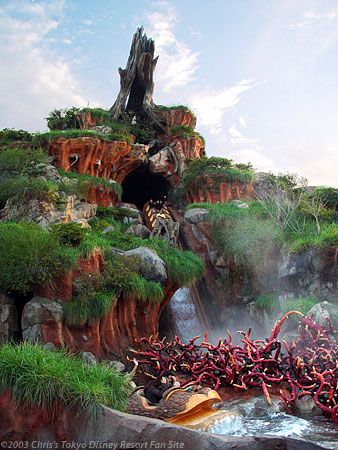 7. Splash Mountain
This is a newer classic, being on the scene since the mid 90's, but I can't imagine being at Disney World and not riding this. Based on Song of the South, you join Br'er Rabbit, Br'er Fox and Br'er Bear. Br'er Rabbit is in search of bigger and better things and you're moving along with him to his laughing place. Filled with cute characters and memorable songs this is what you think of when you think of a Disney ride. That is until you get to the end, a 45 degree plummet into the briar patch. If you're sitting up front, duck. It's totally worth it, funny, and you'll stay dryer. This is one of the rides that takes your picture. Don't get any ideas about flipping the bird or flashing the girls. You'll be met by security and escorted out. Another bit of wisdom. No lap bars or seat belts are on the boats. If you have a kid who is tall enough but is a little on the light side, you may want to hold on to them to keep them from freaking out when their butt lifts out of the seat. This can't be said enough. Fast Passes. Get them. It's a great ride but the line is killer in the sun and going up stairs.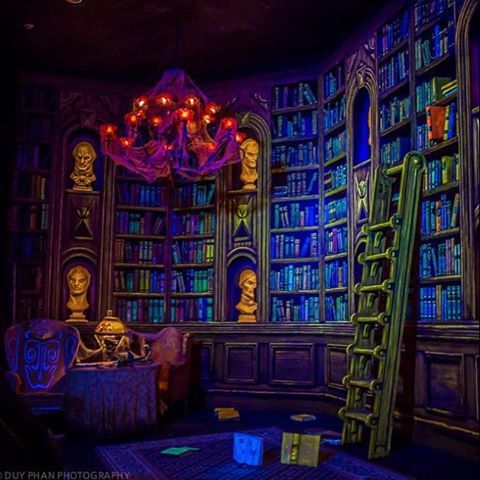 6. Haunted Mansion
Dear gosh I love the Haunted Mansion. Simply put it is a classic Disney dark ride. Before going in, you have to check out the new, interactive queue area. My kids are definitely the push every button type. If you are, too, you won't be disappointed. Pay your respects to Mr. Toad in the cemetery. Watch the tombstones carefully. As you move into the dead center of the next two rooms look up, down, and all around. Just be mindful of personal space. They like to pack the visitors in pretty tight and this is when you realize your ten year old needs deodorant. As you're trying to figure out how the room is stretching a door will open. You need to have a good grasp on your party. People like to push and shove their way through and this is where families can get separated. From this point you get in your Doom Buggy as a ghost narrates your tour of the estate and cemetery. The effects are well done. Simple but effective tricks complete with lighting and sound make this the complete package. You get out of the heat and off your feet while enjoying another all time classic Disney ride. My only complaint is that the mansion doesn't get decorated in Nightmare Before Christmas as Disney land does. Other than that, this is a perfect attraction. Look for the hidden Mickey on the spider.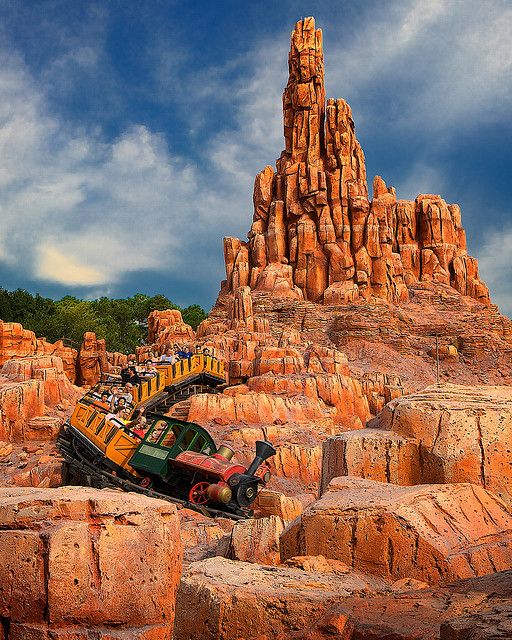 5. Big Thunder Mountain Railroad
I love roller coasters. This one does not disappoint. You're on a wild, escaped mine train racing through a bat cave, mine collapse, dinosaur skeleton, and more. It's a little rough. If you have a bad back like my dad, I'd say sit this one out and watch the small ones who can't ride yet. It is a good ride. The coaster has the feeling of a woody coaster. This is definitely one of the thrilling rides your kids will clamber for after you make them ride Small World.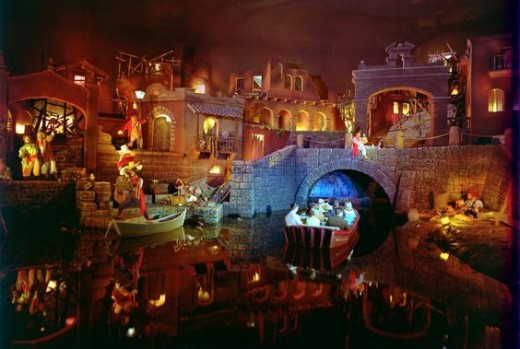 4. Pirates of the Caribbean
This dark ride was a tried and true favorite before the movies and Johnny Depp. After they added Jack Sparrow it's still a favorite. Nothing made me laugh as much as my daughter telling me to steal Jack for my Johnny obsessed sister. Again, classic Disney attraction. The cannonballs splash you. The smell of burning embers fills your nostrils. And yes, look up and you will see hair on the pirate's leg. My favorite memory is my dad and I yelling, "We want the redhead." We do it every time. Yeah, we're those people. When you get out of your boat you are carefully led right into the gift shop. Another tried and true Disney trick.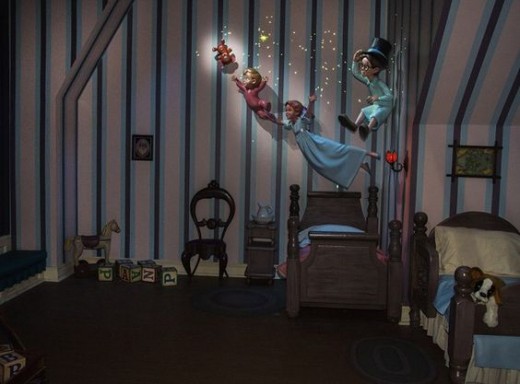 3. Peter Pan's Flight
We're all a little Peter Pan, aren't we? That's why we go to Disney. It reminds us of when we were young and fought pirates, swam with mermaids, and flew with faith, trust, and pixie dust. This ride is well done and ridiculously busy. Get a Fast Pass. You board a pirate ship and fly, yes, fly over London and Neverland. Most of the rides are like trains on tracks underneath you. This is a rail above you that helps you to soar over the scenes unfolding beneath you. Clean, precise details make this stunning. My husband is not a fan of heights and didn't realize we were up. He thought it was just Disney magic. It's that good.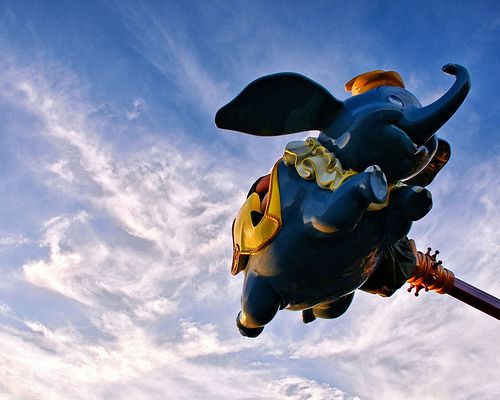 2. Dumbo
Much to the chagrin of my eleven year old, this is a ride she must go on every time with PopPop. I can do without this one. It spins and goes around and I can't handle any of that. But I can handle the look of grandparent love and joy on my dad's face as he soars with his baby as she makes the elephant go up and down. It's definitely the kind of ride that reminds us how quickly childhood passes and savor every little minute of it.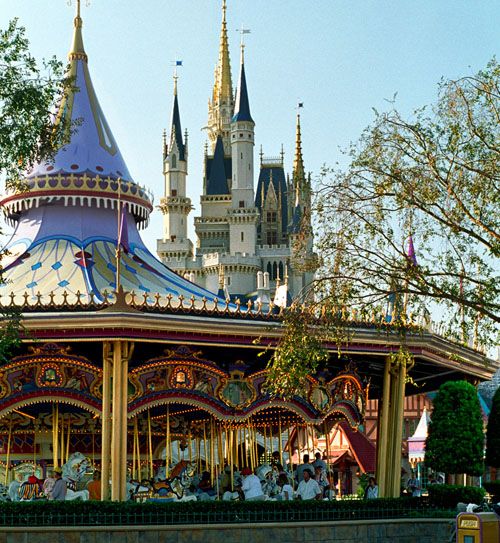 1. Prince Charming's Carousel
Ridiculously huge lines. Honestly, I've ridden this once. It's a little fast for me and once my vertigo kicks in I might as well head back to the hotel. It is sweet seeing your kids ride those horses like Mary Poppins and Burt. Much like Dumbo, it's a ride that helps keep the little in your kids a bit longer and helps to wake up your inner Disney kid, too.
These are in no particular order of love for me.
If you're planning a trip to Disney World any time soon, make sure to get your Fast Passes for these and enjoy some of the attractions that make Disney World THE go to, bucket list destination it is.
Hey howdy hey. How are you today?
No. Seriously. How are you today? It's OK to be honest with your answer here. Remember, this is a safe space.
Too often, when we're asked, "How are you?" we say, "Fine. OK. Can't complain." But you're not fine. You're not OK. But you don't want to be seen as a complainer. In your world, things are not OK. Things are not fine. And that's OK. You have the right to not be OK.
See, we are living in weird times. Everyone is divided. Everyone is on polar opposite ends of everything. Everyone is extreme. There is no middle. There is no meeting point. There is no fine or OK. Everything is awesome or terrible. We are living in an all or nothing world. And it's starting to take its toll. Do you have exact change?
The toll of living in absolutes is guilt. There's this burden some of us carry that we don't feel right shirking off onto others. So, when you ask us how we're doing, we won't say how badly we slept, or how our bodies hurt, or how hard it was to get out of bed. We say, "I'm OK."
But, you're not, are you? You're not OK. You're managing. You're struggling. You're fighting. And some days you feel like giving up.
That's OK. You're doing the best you can. And don't listen to Facebook Felicia and her nonsensical advice. Just because it worked for her brother's best friend's mother doesn't mean it will work for you. And you are not a failure. Just because Nosy Nancy had a case of the blues and still cleaned her house and cooked dinner for her family doesn't mean that's the standard you need to set for yourself.
We all have days that are better than others. We all have days that are worse. Not every day is going to be sunshine, roses, kittens, and glitter. And that's OK. Because you're trying. You haven't given up. You haven't let the darkness win. You keep listening to that small voice inside you that keeps cheering you on.
And if you don't hear that voice anymore, let me be that for you. If you woke up and got out of bed, got showered, got dressed, ate breakfast – I'm proud of you. Keep going. You got this.
If you were only able to wake up and get a shower, congratulations. You got up and you did the best you could. Maybe in five minutes, you'll be able to get something to eat.
If you stayed in bed all day, that's OK. You're taking care of yourself. Maybe later, you'll be able to walk to the living room. Maybe you'll feel like eating. Just take it five minutes at a time. And don't forget to keep breathing.
Where ever you are in your well being, I am proud of you. You are working, fighting, struggling, succeeding, laughing, crying. But you are also LIVING. It's OK to not be OK. It's OK to be OK. Either way. I'm proud of you. and if no one has told you today, I LOVE YOU.
Sincerely,
The Glorious Train Wreck Mom
I quit my job. But this isn't going to be your typical put the boss and company on blast type of post.

You read that right.
I quit my job. OK. That's not accurate. I walked out. Collected my things. Collected my son's things from his preschool room. Hugged friends and said good bye. I clocked out and told my boss I couldn't do it anymore. Then, I walked out to my husband who was waiting for me in the parking lot.Yeah. This isn't going to be one of those "put the boss/company on blast" posts. I'm not about that life. What this is about is your own self value and respect.
What was I thinking?
A year ago, it wasn't an option; I had to go to work. My husband started school and was unable to work. He's still in school but now he's got several skills that would allow at least a part time job. And now with me being home we don't have to worry about more gas or daycare expenses. Bonus nachos. ​
Perception is Reality
The problem I had was a feeling in me. I felt disrespected a lot. Notice how that was said. I felt. Not I was. Perception is the key. I know the other party doesn't feel the same way. And that's OK. That is her perception of the situation. But I have to live my life in my body, thinking my thoughts, and feeling my emotions. I felt disrespected. I'm also not a fan of rules for the sake of rules or Cover Your Ass (CYA) as a policy. I worked for a corporate run child care facility. Don't you dare call it a daycare. You will be corrected. They prefer the term school. So, as with most corporate run operations, if something happens in one center, the rest feel the effects. I was OK with the cameras. I know several friends who would have been saved jobs and money had cameras been in place at their jobs. And, paperwork is an inevitability in any job. My husband is going to school for IT and he still has a stupid amount of paperwork to do. But, when one government organization tells you the paperwork has to be done like ABC and then another agency tells you the paperwork says you do it XYZ but someone else tells you to do it 123, it gets confusing. And then you get told you're not doing your job right.
I'm damn good at my job.
I think that's the meat of it right there. Brace yourself, this is going to sound pretty braggy. I'm damn good at being a preschool teacher. Yes, I'm sometimes a little harsh. Sometimes, the filter on my brain backs up and I say the things that are in my head out loud. But in the end, I'm damn good at being a preschool teacher. Hell, I got hired at one of the country's most prestigious facilities. That's no easy feat. There were tests and essays. Algorithms and computers check your answers; not people. And I was chosen. I think that place needed me as much as I needed it. That room was a hot mess. That's no joke. Anyone that was there at the time would tell you, that room was the proving ground. I was having panic attacks every day. I cried going in every day. But, I made it through and we got a new class of kids.
Not just a preschool teacher
But something didn't feel right. I'll take responsibility for that. I have this blog. My books that I'm writing and editing. I'm starting a merchandise store. I have a podcast. I have a YouTube channel ​.
On top of that, I have a 14 year old I've been homeschooling due to anxiety and depression. She used to have therapy once a week; we're down to every other week now. I have my own 4 year old son, so coming home to a fournado after dealing with twenty of them was kind of rough some days. Most days. OK, all the time. My 13 year old stepdaughter moved in with us and we haven't always had the best relationship. We're working on it. So, mix all that together. Bake at 350 for an hour. Pull it out and that's my life cake. Ice that with a 9-5 Monday to Friday and that's all sorts of trouble just waiting to happen.
Gee, why is Jen's cortisol level so high? I can't imagine.
So, here I am now.
I don't have a plan. I don't have a job. I don't have a clue. But, I also don't have any regrets. OK, that's not accurate either. I regret leaving the good people behind in the fashion I left. I can only hope we really will stay connected. ​
Until I find something else, I will focus on my writing. My first fiction book, "Mr. Christmas," is being released May 1st. I'm going to focus on this blog a lot more. My YouTube channel will still have videos uploaded every Monday, Wednesday, and Friday I will continue to add products to my merchandise store.All in all, I feel good about this decision. In fact, I feel confident that I'm moving in the direction of my dreams. My end goal is to make money with my writing. So, here's to the future.
All aboard, train wreck.
Stress. 2017 was stressful. And i hope to leave that all in 2017.
I'm fairly introverted. My loud only only comes out when I'm comfortable. Within a week of 2017 starting I was given a raise and a promotion to full time lead teacher in the preschool room.
I can hear you. Yes, that is good. But then I had to go through more training and testing.
My coworker started in February. We are polar opposites. I adore her now, but it took some time. By the time she started I was used to doing everything myself. The lesson plans, the paper work, the cleaning. Everything. And there I was having to share my space with someone. It sounds bratty. It is. I'm not a fan of sudden change and boom! Stranger in my space.
I wouldn't trade her for the world now.
Then there was the spring. In our room, we had two very challenging children. I'll call them Em and Bell. Em had emotional and anger issues. Bell was exceedingly smart and spoiled.
I know, shock. Preschool teachers aren't supposed to say such things. All children are gifts just waiting to be opened. Uh huh. I have gotten myself in trouble many time for saying what's on my mind. So, this is nothing new.
I spent almost 4 months being hit, scratched, kicked, having shoes thrown at me, spit on, and screamed at. My classroom was falling apart. It took one person to deal with Em or Bell. One each if they decided to fire off at the same time. That happened at naptime almost every day. With one person wrangling a kid that meant the other had to try and run the room with 19 other kids in it.
Because of the stress I started taking panic attacks two and three times a day. I cried before going in to work.
Quitting was not an option. I'm the only one working. My husband is in school for computer technology. Because of the schedule of his classes working isn't really ideal for him right now. So, finances definitely added stress. Knowing i had no options was the cherry on a stress sundae.
It's gotten better. Em and Bell are no longer at the center. I'm still learning to share responsibilities and space in the preschool room. And we are passed the holidays so budgeting can get back on track now.
I know stress is a part of life. When you live with anxiety you kind of get used to it. But last year was ridiculous. Here's to hoping that stress stays in 2017. And that corporate doesn't read this post.
2017 blessed me in ways I could not imagine.
Financially: money showed up at the right times. In ways we could never have thought. We sold the broken down camper that sat in the front yard. My father paid for three months worth of daycare for my son.
Emotionally: We were able to finally get my daughter evaluated and put on medications for her depression and anxiety. She's also been going to therapy for two months. The change in her has been so apparent. She smiles now. Laughs. Dances. Does art again. I love having my baby bunny back.
Relationships: There was a breakthrough in my relationship with stepdaughter Hayhay. It was her birthday in October. She has a thing for The Little Mermaid; it's her favorite Disney movie. So, I bought her an Ariel Funko Pop figurine. She loved it so much she hugged me, told me thank you, and that she loves me. I hugged her back. Told her no problem. When she left the room I cried. We haven't always had the best relationship. And we've had some issues since then but I see this as a step in the right direction.
Career: I've decided that I'm pretty much over child care. I've been blessed with a job that allows me some flexibility with my schedule and I'm allowed to bring my son (for a price). Child care used to be my passion but over the years (twenty of them total) I've learned that my true passion is writing. Specifically, writing humor and about mom life. I love helping people see the humor in the daily problems that plague mother's. Dishes, laundry, and why can people never put the toilet paper in the roller thingy!!!!
It's been a good year. I know 2018 is going to be better.
Kids are funny. They have the power to infuriate us and drive us to the brink of insanity. And right when we're about to crack, they give us a kiss and say, "I love you." Then walk away as they fart.
I have worked in childcare for twenty years. And I can tell you that one thing is true. Kids are funny.
You sometimes don't appreciate the humor from your own kids. By the time you get around to dealing with them you're exhausted and would love give minutes of quiet, even if it's just to see alone. But working in childcare (This includes teachers, too) gives you a unique perspective on how funny kids really are.

Just today
I was able to witness some humorous moments. Which was helpful because today was very stressful and we all needed some comic relief.
We ran out of fruit at breakfast. My kids wound up getting pancakes and carrots. You read that right. Carrots. With Italian dressing. For breakfast. Now, as an adult, you might say something like, "What the actual hell is this?" It's ok. I did. Not verbally but yeah, I thought it. But the kids didn't even give it a thought. One actually said, "Ooh salad! We never have salad for breakfast. Mom won't let me have salad for breakfast. I've always wanted salad for breakfast. This is the best day ever." This is the same kid who cried because mom brought the wrong doll from the car, but, hey, whatever floats your boat. And can we take a moment to appreciate that carrots constitutes a salad to this kid. Like, yay, easy to impress. Unless you bring the wrong doll. Then you shall ride the handbasket to Hades in the express lane.
We got to go outside today. This hasn't been a regular occurrence with the biblical amount of rain we've gotten over the last three weeks. One of my kiddos brought me a leaf. He was very concerned for the bee on the leaf. It was moving and he thought it was asleep. It was my job to wake up the bee. The problem was it wasn't a bee. It was a wasp. I quickly took the leaf and wasp and tossed both over the fence. This caused my little friend much grief. Why? How was he going to get honey for his Cheerios? Because plain Cheerios are gross and he only likes them with honey. But now, I threw out the sleeping bee and it won't make honey for his Cheerios. Miss Jen (that's me) was mean and doesn't care that he will have to eat Cheerios with no honey forever. That bee was made for him. That bee was sent here just for him. That bee's sole purpose in its little insect life was to make honey just for this child's Cheerios. But I had to go and throw that bee away. Along with that bee (remember, not a bee. It's a wasp) I threw that child's honeyed Cheerios dreams right over that fence.
Don't you wish adult problems were like this? Seriously. I woke up to a paycheck that was two hundred dollars less than it should have been. I found out my W4 had me listed as single. With no allowances or dependents. Like, no. How about no?! Try I'm the only one working with a husband in school and three kids. One goes to the daycare I work at. And I still need to pay tuition for him. I'd like to have Cheerios with no honey on them as my main source of stress in life.
The best funny part came this afternoon. One of our dads came in and his son ran straight to him and proclaimed, "I didn't push anyone today!" He was so proud of himself. Dad was confused. I was confused because this kid never really pushes or hits or has a problem and yet, here he was letting everyone know he didn't recreate Sean Penn and the paparazzi. Dad's response: "Good for you." That's right. You know it's a good day when you don't bite, fight, punch, kick, lick, spit, or push someone.
I can honestly say I can't remember the last time I had to qualify the quality of my day by my behavior. Although, there are definitely moments where I have wanted to bite or push someone. I think we all have that. But those behaviors are typically frowned upon in adult society. Some, will get you featured on an episode of, "COPS."
The Positive Takeaway
Take time to sit back and appreciate humor in all forms. And be grateful for the little people that make us laugh big belly laughs and then ask if we're pregnant. No, baby, I'm just fat. Thanks for asking.
Spider web painting
This involves real webs. It's a great way to teach kids about the difference in spiders and their webs. That's because each spider has a different kind of web for its needs, funnel webs, trap doors, and such. That's how they're classified, too, by the types of webs they spin. How cool is that?
What you do
What you'll need is a can of dark spray paint but not lacquer, some white paper, and oh yeah, a spider web. Go for a walk. Look in between plants, bushes, and trees for the webs. Your standard orb web, that's the round kind, works best but definitely look out for other kinds. When you find the web, tap on it to make sure no one's home. Make sure everyone stands with their backs to the wind so no one gets a face full of paint. Spray the web quick with a back and forth motion. Cover it so there are beads of paint on the web. Then curve the edges of the paper so the center touches the web first, then very carefully straighten the paper until the entire web is on the paper. Let it dry and then display. Get your journals out and write about the experience. Ask how the spider spins a web, why different spiders spin different webs, and how they spider knows there's a bug in the web.
Extend the learning
Give your kids white chalk and black paper to make their own webs. Take pictures of different webs and have the kids match the spider to the web.You could even adopt a spider on your property somewhere, not near my house or out comes the vacuum, and watch it. Record its behaviors and habits in your journals.
Hope this gives you some ideas.
Moms judge each other pretty harshly. But they judge themselves even more so. We hold ourselves to such a high standard. Sometimes, impossibly high. I have something you should hear.
This is to the mom hiding in her bathroom or bedroom or car. I see you. I see you needing just 5 minutes to cry, breathe, and get some peace and quiet.
This is to the exhausted mom. I see you. I know you would do anything for a 20 minute nap but you have 3 kids and they all have the flu and you hope to god they get over it during the weekend because you just can't take off any more time from work.
This is to the mom who hides the chips and candy in her car. I see you. I know you try to eat healthy. For the kids. But sometimes, you just need a chocolate bar. And that's ok.
This is to the mom crying into her pillow with the door closed. I see you. The stress built up and exploded. You blew up on your kid for something really small and insignificant. And you know it wasn't that big of a deal. So on top of it all, you have mom guilt. You would take it all back if you could. And later you'll say sorry. You'll make the kid's favorite meal and watch their favorite show. And you'll go to bed feeling like a failure. You're not.
This is to the mom who works out and diets. I see you. I see you trying to get that body back that you had when you met your husband. I know what its like to hate the person in the mirror. I know the fear of being replaced by a newer, younger, fitter model. I'm pretty sure he's put a little weight on, too. And I'm pretty sure he didn't just marry you for your waist line.
This is to the mom who just can't go to the PTA or scouts meeting, the concert or game. I see you. I know what it's like to have to cancel plans because it's just too much to try and go out and deal with the outside world when the world inside your head is already loud and busy. I know what it's like to want to hid in your room under the blankets.
This is to the mom grabbing mcdonalds or pizza again this week. I see you. You had to work late. Again. And they have to eat. And by time you get home it'll be too late to cook and eat before bed.
This is to the mom standing alone during scouts and PTA meeting. I see you. You're trying. But you know you won't fit in. So, you're there for your kid and no one else.
You Are A Good Mom
Let me tell you this, in case you haven't heard it today. I'm pretty sure you haven't heard this in a while. You are good enough. You are important. You are loved and worthy of love. You are a good mom.
This is your life right now. Its crazy and frustrating and rewarding. The days drag on but the years fly by. Not one moment is the same as the next. That's what makes it so tough. You never know from one minute to the next what you'll be dealing with.
One minute you're snuggling your baby then boom you're covered in vomit. You blink and theyre in kindergarten. You turn and it's high school. Then theyre gone and you watch your heart move away and start a life of its own.
That's when you realize it was all worth it.
For now, take a breath. You are doing your best. And in the end that's what they'll remember. They'll look back and see a mom that tried and did her best with what she had. They'll remember the time and sacrifices. They'll look back and they will see they had the best mom for them.
Until then, I see you. The best mom in the world to her kids. The mom who is enough. I'm proud of you and I love you.
Not going to lie. I love Talk Like a Pirate Day. It was more fun when I worked in child care. Now, if I answer the phone in my pirate voice, I'm pretty sure I'm getting pulled into HR. Oh well. In the spirit of the day, instead of binge watching "Pirates of the Caribbean," I figured why not list some books to put us in a swash buckling mood.
As always, I will post a link where you can buy the book. If you use that link, I may earn a small commission. So, thank you.
Daughter of the Pirate King by Tricia Levenseller
From the Amazon description –
There will be plenty of time for me to beat him soundly once I've gotten what I came for.
Sent on a mission to retrieve an ancient hidden map—the key to a legendary treasure trove—seventeen-year-old pirate captain Alosa deliberately allows herself to be captured by her enemies, giving her the perfect opportunity to search their ship.
More than a match for the ruthless pirate crew, Alosa has only one thing standing between her and the map: her captor, the unexpectedly clever and unfairly attractive first mate Riden. But not to worry, for Alosa has a few tricks up her sleeve, and no lone pirate can stop the Daughter of the Pirate King.
In Daughter of the Pirate King, debut author Tricia Levenseller blends action, adventure, romance, and a little bit of magic into a thrilling YA pirate tale.
Daughter of the Siren Queen (Daughter of the Pirate King Book 2) – by Tricia Levenseller
From the Amazon description – The capable, confident, and occasionally ruthless heroine of Daughter of the Pirate King is back in this action-packed sequel that promises rousing high seas adventures and the perfect dash of magic.
Alosa's mission is finally complete. Not only has she recovered all three pieces of the map to a legendary hidden treasure, but the pirates who originally took her captive are now prisoners on her ship. Still unfairly attractive and unexpectedly loyal, first mate Riden is a constant distraction, but now he's under her orders. And she takes great comfort in knowing that the villainous Vordan will soon be facing her father's justice.
When Vordan exposes a secret her father has kept for years, Alosa and her crew find themselves in a deadly race with the feared Pirate King. Despite the danger, Alosa knows they will recover the treasure first . . . after all, she is the daughter of the Siren Queen.
In Daughter of the Siren Queen, Tricia Levenseller brings together the perfect mix of thrilling action, tense battle scenes, and a heart-pounding romance.
About the author – Tricia Levenseller is from a small town in Oregon, but she now lives in Utah with her bossy dog, Rosy. She received her degree in English Language and editing, and she is thrilled that she never has to read another textbook again. When she's not writing or reading, Tricia enjoys putting together jigsaw puzzles, playing volleyball, and watching her favorite TV shows while eating extra-buttered popcorn.
To learn more about the author and their other books, click here. https://www.amazon.com/Tricia-Levenseller/e/B01L7ONJKK?&linkCode=sl2&tag=glorioustra08-20&linkId=2128ab83e01cd4710187a64b9de06c00&language=en_US&ref_=as_li_ss_tl
To buy the full series on Kindle e-book, click here. https://amzn.to/3BWNCY2
Treasure Island by Robert Louis Stevenson
From the Amazon description – A voyage for buried treasure spells trouble for cabin boy Jim Hawkins, who finds himself in the middle of a mutiny with some of the nastiest pirates to ever sail the seven seas.
Fable: A Novel by Adrienne Young
From the Amazon description –
NEW YORK TIMES BESTSELLING SERIES

A REESE WITHERSPOON x HELLO SUNSHINE BOOK CLUB YA PICK
Filled with all of the action, emotion, and lyrical writing that brought readers to Sky in the Deep, New York Times bestselling author Adrienne Young returns with Fable, the first book in this new captivating duology.
Welcome to a world made dangerous by the sea and by those who wish to profit from it. Where a young girl must find her place and her family while trying to survive in a world built for men.
As the daughter of the most powerful trader in the Narrows, the sea is the only home seventeen-year-old Fable has ever known. It's been four years since the night she watched her mother drown during an unforgiving storm. The next day her father abandoned her on a legendary island filled with thieves and little food. To survive she must keep to herself, learn to trust no one and rely on the unique skills her mother taught her. The only thing that keeps her going is the goal of getting off the island, finding her father and demanding her rightful place beside him and his crew. To do so Fable enlists the help of a young trader named West to get her off the island and across the Narrows to her father.
But her father's rivalries and the dangers of his trading enterprise have only multiplied since she last saw him and Fable soon finds that West isn't who he seems. Together, they will have to survive more than the treacherous storms that haunt the Narrows if they're going to stay alive.
Fable takes you on a spectacular journey filled with romance, intrigue and adventure.
About the author – Adrienne Young is the New York Times, USA Today, and Indie list bestselling author of the Fable duology and the Sky in the Deep duology. She is a foodie with a deep love of history and travel and a shameless addiction to coffee. When she's not writing, you can find her on her yoga mat, sipping wine over long dinners or disappearing into her favorite art museums. She lives with her documentary filmmaker husband and their four little wildlings in the Blue Ridge Mountains of North Carolina.
To learn more about the author and their other books, click here. https://amzn.to/3k6T6co
To buy the full series on Kindle e-book, click here. https://amzn.to/3k4B7TY
To Kill a Kingdom by Alexandra Christo
From the Amazon description –
Princess Lira is siren royalty and the most lethal of them all. With the hearts of seventeen princes in her collection, she is revered across the sea. Until a twist of fate forces her to kill one of her own. To punish her daughter, the Sea Queen transforms Lira into the one thing they loathe most–a human. Robbed of her song, Lira has until the winter solstice to deliver Prince Elian's heart to the Sea Queen and or remain a human forever.
The ocean is the only place Prince Elian calls home, even though he is heir to the most powerful kingdom in the world. Hunting sirens is more than an unsavory hobby–it's his calling. When he rescues a drowning woman in the ocean, she's more than what she appears. She promises to help him find the key to destroying all of sirenkind for good–But can he trust her? And just how many deals will Elian have to barter to eliminate mankind's greatest enemy?
About the author – Alexandra Christo is a British author whose characters are always funnier and far more deadly than she is. She studied Creative Writing at university and graduated with the desire to never stop letting her imagination run wild. She currently lives in Hertfordshire with a rapidly growing garden and a never-ending stack of books. Her debut novel To Kill a Kingdom is an international bestseller and her Young Adult fantasy books have been translated into over a dozen languages worldwide.
To learn more about the author and their other books, click here. https://amzn.to/3yZOzNm
Bloody Jack: Being an Account of the Curious Adventures of Mary 'Jacky' Faber, Ship's Boy (Bloody Jack Adventures Book 1) by L.A. Meyer
From the Amazon description –
Life as a ship's boy aboard HMS Dolphin is a dream come true for Jacky Faber. Gone are the days of scavenging for food and fighting for survival on the streets of eighteenth-century London. Instead, Jacky is becoming a skilled and respected sailor as the crew pursues pirates on the high seas.
There's only one problem: Jacky is a girl. And she will have to use every bit of her spirit, wit, and courage to keep the crew from discovering her secret. This could be the adventure of her life–if only she doesn't get caught. . . .
About the author – L. A. MEYER is the author of Bloody Jack: Being an Account of the Curious Adventures of Mary "Jacky" Faber, Ship's Boy. He also has been a designer and an art teacher, and is currently the curator and exhibitor at the Clair de Loon Gallery near his home in Corea, Maine.
To learn more about the author and their other books, click here. https://amzn.to/3C03GIk
To buy the full series on Kindle e-book, click here. https://amzn.to/3EeiZPw
The Assassin's Curse (The Blackthorn Key Book 3) by Kevin Sands
From the Amazon description –
Christopher Rowe is back and there are more puzzles, riddles, and secrets to uncover in this third novel of the award-winning Blackthorn Key series.
Wherever Christopher Rowe goes, adventure—and murder—follows. Even a chance to meet King Charles ends in a brush with an assassin.
All that's recovered from the killer is a coded message with an ominous sign-off: more attempts are coming. So when Christopher's code-breaking discovers the attack's true target, he and his friends are ordered to Paris to investigate a centuries-old curse on the French throne. And when they learn an ancient treasure is promised to any assassin who succeeds, they realize the entire royal family is at stake—as well as their own lives.
In the third heart-pounding installment of the award-winning Blackthorn Key series, Christopher, Tom, and Sally face new codes, puzzles, and traps as they race to find the hidden treasure before someone else is murdered.
About the author – Since escaping from university with a pair of degrees in theoretical physics, Kevin Sands has worked as a researcher, a business consultant, and a teacher. His debut novel, The Blackthorn Key, comes out in September 2015.
To learn more about the author and their other books, click here. https://amzn.to/3Ebi2rf
To buy the full series on Kindle e-book, click here. https://amzn.to/2VEUJF4
Pirate Latitudes: A Novel by Michael Crighton
From the Amazon description –
"Crichton's ultimate adventure."
—San Francisco Chronicle
"Pirates Latitudes has the loot: Gore, sex, action….A lusty, rollicking 17th century adventure."
—USA Today
"Riveting….Great entertainment….The pages and minutes fly by."
—Cleveland Plain Dealer
#1 New York Times bestselling author, the incomparable Michael Crichton ("One of the great storytellers of our age" —Newsday) takes to the high Caribbean seas for an irresistible adventure of swashbuckling pirates, lost treasure, sword fights, duplicity, and hair-breadth escapes in the New World.
About the author – After graduating from Harvard Medical School, Michael Crichton embarked on a career as a writer and filmmaker, whose credits include 'The Andromeda Strain', 'Westworld', 'Jurassic Park', 'Rising Sun', 'Prey' and 'State of Fear' and the TV series 'ER'. He has sold over 150 million books which have been translated into thirty-six languages; twelve have been made into films. He is the only person to have had, at the same time, the number one book, movie and TV show in the United States.
To learn more about the author and their other books, click here. https://amzn.to/3k3CFh2
All the Stars and Teeth (All the Stars and Teeth Duology Book 1) by Adalyn Grace
From the Amazon description –
"Fierce and unrelenting…Do yourself a favor and get lost in this beautiful book!" — Tomi Adeyemi, #1 New York Times bestselling author of Children of Blood and Bone
Set in a kingdom where danger lurks beneath the sea, mermaids seek vengeance with song, and magic is a choice, Adalyn Grace's All the Stars and Teeth is a thrilling fantasy for fans of Stephanie Garber's Caraval and Sarah J. Maas's Throne of Glass series.
She will reign.
As princess of the island kingdom Visidia, Amora Montara has spent her entire life training to be High Animancer—the master of souls. The rest of the realm can choose their magic, but for Amora, it's never been a choice. To secure her place as heir to the throne, she must prove her mastery of the monarchy's dangerous soul magic.
When her demonstration goes awry, Amora is forced to flee. She strikes a deal with Bastian, a mysterious pirate: he'll help her prove she's fit to rule, if she'll help him reclaim his stolen magic.
But sailing the kingdom holds more wonder—and more peril—than Amora anticipated. A destructive new magic is on the rise, and if Amora is to conquer it, she'll need to face legendary monsters, cross paths with vengeful mermaids, and deal with a stow-away she never expected… or risk the fate of Visidia and lose the crown forever.
I am the right choice. The only choice. And I will protect my kingdom.
An Imprint Book
"Vicious and alluring, All the Stars and Teeth is a force to be reckoned with."
—Hafsah Faizal, author of We Hunt the Flame
"Jam-packed with swashbuckling adventure, swoonworthy romance, and dark, lush magic. Amora Montara and the crew of Keel Haul will drop anchor in your heart and refuse to leave."
—Christine Lynn Herman, author of The Devouring Gray
"A deliciously twisted fantasy that keeps your heart jumping from page to page….Richly imaginative and full of political intrigue, I loved every moment of this fast-paced adventure!"
—Akemi Dawn Bowman, author of Starfish and the upcoming The Infinity Courts
About the author –
New York Times bestselling author
Prior to becoming an author, Adalyn spent four years working in live theatre, acted as the managing editor of a nonprofit newspaper, and studied storytelling as an intern on Nickelodeon Animation's popular series The Legend of Korra.
Local to San Diego, Adalyn spends her non-writing days by watching too much anime, and by playing video games with her two dorky dogs.
Website: adalyngraceauthor.com
Instagram: https://www.instagram.com/authoradalyngrace/
To learn more about the author and their other books, click here. https://amzn.to/3hp5aEe
To buy the full series on Kindle e-book, click here. https://amzn.to/3C4Rq9z
Under the Black Flag: The Romance and the Reality of Life Among the Pirates by David Cordingly
From the Amazon description –
"This is the most authoritative and highly literate account of these pernicious people that I have ever read."—Patrick O'Brian
"[A] wonderfully entertaining history of pirates and piracy . . . a rip-roaring read . . . fascinating and unexpected."—Men's Journal
This rollicking account of the golden age of piracy is packed with vivid history and high seas adventure. David Cordingly, an acclaimed expert on pirates, reveals the spellbinding truth behind the legends of Blackbeard, Captain Kidd, Sir Francis Drake, the fierce female brigands Mary Read and Anne Bonny, and others who rode and robbed upon the world's most dangerous waters. Here, in thrilling detail, are the weapons they used, the ships they sailed, and the ways they fought—and were defeated. Under the Black Flag also charts the paths of fictional pirates such as Captain Hook and Long John Silver. The definitive resource on the subject, this book is as captivating as it is supremely entertaining.
Praise for Under the Black Flag
"[A] lively history . . . If you've ever been seduced by the myth of the cutlass-wielding pirate, consider David Cordingly's Under the Black Flag."—USA Today, "Best Bets"
"Engagingly told . . . a tale of the power of imaginative literature to re-create the past."—Los Angeles Times
"Entirely engaging and informative . . . a witty and spirited book."—The Washington Post Book World
"Plenty of thrills and adventure to satisfy any reader."—The Philadelphia Inquirer
To learn more about the author and their other books, click here. https://amzn.to/3nrYBo8
Well, I hope this books help you find adventure on the high seas. Or at least a few minutes of rest and relaxation from the comfort of your couch. If you read any of these, please let us know what you thought of it.
Until then, that's all I've got for today. So, avast, ye maties and all aboard.
Make a one-time donation
Make a monthly donation
Make a yearly donation
Choose an amount
Or enter a custom amount
$
---
Your contribution is appreciated.
Your contribution is appreciated.
Your contribution is appreciated.
Donate
Donate monthly
Donate yearly
It is no secret that I love Grady Hendrix. His books are the perfect blend of horror, terror, and humor with a healthy dose of Gen X nostalgia. And The Final Girl Support Group is no different.
You can buy it here
From the Amazon description –
THE INSTANT NEW YORK TIMES BESTSELLER

A Good Morning America Buzz Pick

"The horror master…puts his unique spin on slasher movie tropes."-USA Today

A can't-miss summer read, selected by The New York Times, Oprah Daily, Time, USA Today, The Philadelphia Inquirer, CNN, LitHub, BookRiot, Bustle, Popsugar and the New York Public Library

In horror movies, the final girls are the ones left standing when the credits roll. They made it through the worst night of their lives…but what happens after?
Like his bestselling novel The Southern Book Club's Guide to Slaying Vampires, Grady Hendrix's latest is a fast-paced, frightening, and wickedly humorous thriller. From chain saws to summer camp slayers, The Final Girl Support Group pays tribute to and slyly subverts our most popular horror films—movies like The Texas Chainsaw Massacre, A Nightmare on Elm Street, and Scream.
Lynnette Tarkington is a real-life final girl who survived a massacre. For more than a decade, she's been meeting with five other final girls and their therapist in a support group for those who survived the unthinkable, working to put their lives back together. Then one woman misses a meeting, and their worst fears are realized—someone knows about the group and is determined to rip their lives apart again, piece by piece.

But the thing about final girls is that no matter how bad the odds, how dark the night, how sharp the knife, they will never, ever give up.
About the author – New York Times bestselling author Grady Hendrix makes up lies and sells them to people. His novels include HORRORSTÖR about a haunted IKEA, MY BEST FRIEND'S EXORCISM, which is basically "Beaches" meets "The Exorcist", WE SOLD OUR SOULS, a heavy metal horror epic, THE SOUTHERN BOOK CLUB'S GUIDE TO SLAYING VAMPIRES, and THE FINAL GIRL SUPPORT GROUP, coming on July 13, 2021. He's also the author of PAPERBACKS FROM HELL, an award-winning history of the horror paperback boom of the Seventies and Eighties. He wrote the screenplay for, MOHAWK, a horror flick about the War of 1812, and SATANIC PANIC about a pizza delivery woman fighting rich Satanists. You can discover more ridiculous facts about him at http://www.gradyhendrix.com.
To learn more about the author and their other books, click here https://amzn.to/3CksElZ
This book did take a bit for more to get into. But once we got to the halfway point, I couldn't put it down. Wait. No. Strike that. That's a lie. I did put it down. Because it got so intense I had to take a moment and collect myself. Then, back on the roller coaster I was.
I can't really say I related to any of the characters. I mean, I didn't watch everyone I love be slaughtered by a school janitor that was burned, a crazed camp counselor, a guy dressed as a ghost, Santa Claus, or a gnome. (Yeah, gnome. Whaaaaaaat?) But I do have my own traumatic events with a crazy ex, so I understand some of the coping mechanisms that Lynette used. Just because I understand them, though, doesn't mean I enjoyed reading a very detailed list of practically every step and thought process Lynn goes through just to get home from the support group meeting. Not going to lie, that part was at the beginning and a little tedious to read. Like, girl, I get it. You're super paranoid. But damn, just get on the bus and make sure you look out for weirdos.
But Lynette's paranoia does show, that just because you're paranoid doesn't mean they're not out to get you. So, I guess it works for her.
The ending had me guessing at every page. Who's the bad guy? Are there more than one? Is there a conspiracy? How are all these Final Girls being found and killed? And who will be the final Final girl?
I will admit to possibly missing Lynette's age at the beginning of the book. It took me a while to realize the girls were at their youngest twenty years old. Most were Gen X aged ladies. I guess I had colored in the details before the lines were drawn. The events for each woman happened when they were teenagers. And they're still in therapy decades later. I have to wonder if the therapy is working, but hey, that's my thought.
I would absolutely recommend this book to anyone who likes the slasher films of the 80's and 90's. I don't know how Grady did it, but there are popcorn scares in this book. Like, my guy, save some talent for the rest of us writers, could ya?
Overall, the plot, the writing, the characters, the whole book gets five broomsticks out of five from me. I went to bed talking about this book to my husband who was subjected to a twenty minute rave session about how good this book was. I barged into my oldest kid's room to tell her she needs to read it. She declines. This book was so good, I had to grab a cozy mystery book to fall asleep.
If you're familiar with Grady and his books, this should be added to your TBR and bookshelf already. If you've never read anything by him, start here. You will be hooked. If you read the book, please let me know what you think of it.
That's all I've got for today train wreck, all aboard.
Make a one-time donation
Make a monthly donation
Make a yearly donation
Choose an amount
Or enter a custom amount
$
---
Your contribution is appreciated.
Your contribution is appreciated.
Your contribution is appreciated.
Donate
Donate monthly
Donate yearly
I love fall. I love autumn. I love Halloween. Give me the pumpkins, the leaves, the cooler temperatures. I need the whole sitting on my porch, drinking coffee, wrapped up in a blanket, reading a book vibe. And for once, I'd like to look cute wearing a flannel shirt and boots and not like a lumberjack looking for their axe.
And because of my lumberjack esque look, I choose to be inside on my couch. And the fact that it's still ninety five degrees outside and I make a fine mosquito buffet. But, you know what they say. Fake it till you make it. And that's why I'm bringing you six more cozy mysteries to put you in a cozy fall mood.
Some of these are not the first in the series. And that's ok. The good thing about cozies is each book is it's own story. And most authors give a little backstory throughout the book into things like jobs, relationships, and previous cases. You won't miss much and if you like the book enough, you could buy the series and start it from the beginning. If you click any of the links I post, I may earn a small commission so thank you.
The Cider Shop Rules (A Cider Shop Mystery Book 3) by Julie Anne Lindsey
From the Amazon description – Autumn in Blossom Valley means pumpkin patches are ripe and Winona Mae Montgomery and her Granny Smythe's cider shop is flourishing. But with this season comes . . .

A FATAL HARVEST

The Fall Festival is in full swing. Civil War reenactors from three counties are partaking in Blossom Valley's tribute to John Brown. Blue Ridge Mountain foliage is in full bloom. And best of all is Jacob Potter's pumpkin farm where his hay rides, piglet races, pumpkin picking and corn maze are time-honored draws for locals and tourists alike. That's why it's such a shock when Mr. Potter is found dead, hidden under a tarp in the back of Winnie's pickup truck. This certainly betrays Potter's reputation as one of the town's most popular citizens. Fortunately, when it comes to solving a murder, no one has a patch on Winnie. Now, all eyes are on her to do it. Unfortunately, that includes those of the killer who'll do anything to keep an orchard full of secrets buried.
To learn more about the author and their other books, click here. https://amzn.to/3lhnal5
To buy the full series on Kindle ebook, click here. https://amzn.to/3nnN3Cz
Wreathing Havoc (A Garden Squad Mystery Book 4) by Julia Henry
Release date – September 28, 2021
From the Amazon description – There's nothing like autumn in picturesque Goosebush, Massachusetts, but beneath the season's sun-dappled foliage, Lilly Jayne and her Garden Squad must investigate a shadowy murder mystery after a theater owner's sudden death sows as much drama behind the scenes as on any stage . . .

Lilly Jayne typically spends the harvest season baking festive pies and crafting colorful wreaths to enter in the library's annual fundraising contest. But this year, autumn opens on a somber note when beloved local theater owner, Leon Tompkin, dies unexpectedly. His memorial sets the scene for a mini reunion of The Goosebush Players' best and brightest alumni, including Hollywood star, Jeremy Nolan . . . until someone plucks Jeremy from the spotlight, permanently.

Now, as dedicated theater volunteer, Scooter McGee, falls under suspicion, Lilly and her Garden Squad must spring into action. They quickly discover a cornucopia of potential suspects in Jeremy's murder. Was it an embittered ex . . . or a jilted lover? A rival thespian . . . or an overly ambitious artist? Lilly rakes through the piles of clues, but if she doesn't uncover the real killer soon, more than autumn leaves will be dropping in Goosebush . . .
To learn more about the author and their other books, click here. https://amzn.to/3hJcWcv
To buy the full series on Kindle ebook, click here. https://amzn.to/3hpHO1e
Mrs. Claus and the Halloween Homicide (A Mrs. Claus Mystery Book 2) by Liz Ireland
Release date – September 28, 2021
From the Amazon description – April Claus knows being married to the real Santa makes every day feel like Christmas. But when a different holiday arrives at the North Pole, so does murder . . .

For the first time ever, Christmastown is celebrating a strange new tradition—Halloween. But not everyone is willing to watch their dependable winter wonderland get overrun by carved pumpkins and costume parties. As a series of scary happenings hit Santaland, each one more intense than the last, April realizes having a role in the festivities could cost her family, friends—even her own life.

April isn't the only unlucky target. Outspoken elf Tiny Sparkletoe is found dead in the snow outside his cottage, crushed in the middle of what appears to be a monstrous footprint. With mayhem descending like reindeer on rooftops, April must stop the Halloween killer before the fate of Mrs. Claus becomes another creepy tale to tell in the dark . . .

"An exceptional series launch . . . This fun, well-plotted mystery is the perfect holiday entertainment."
—Publishers Weekly (starred review)
To learn more about the author and their other books, click here https://amzn.to/2X8KCbS.
To check out the first book in this series, click here. Not going to lie, I absolutely loved this book and can't wait to read the second one.
Murder Outside the Lines (Pen & Ink Book 3) by Krista Davis
Release date – September 28, 2021
From the Amazon description – With Halloween just around the corner, the fall colors in Georgetown are brilliant. As manager of the Color Me Read bookstore, coloring book creator Florrie Fox has arranged for psychic author Hilda Rattenhorst to read from Spooktacular Ghost Stories. But the celebrity medium arrives for the event in hysterics, insisting she just saw a bare foot sticking out of a rolled-up carpet in a nearby alley. Is someone trying to sweep murder under the rug? Florrie calls in her policeman beau, Sergeant Eric Jonquille, but the carpet corpse has disappeared without a trace. Then in the middle of her reading, Hilda chillingly declares that she feels the killer's presence in the store. Is this a publicity stunt or a genuine psychic episode? It seems there's no happy medium. When a local bibliophile is soon discovered missing, a strange mystery begins to unroll. Now it's up to Florrie and Jonquille to expose a killer's true colors . . .
To learn more about the author and their other books, click here. https://amzn.to/2VFNTza
To buy the full series on Kindle ebook, click here. https://amzn.to/3z1YHVL
Death by Hot Apple Cider (A Bookstore Cafe Mystery Book 9) by Alex Erickson
Release date – October 26, 2021
From the Amazon description – Krissy Hancock's bookstore-café in Pine Hills, Ohio, is teaming up with the local library for a seasonal celebration, but someone is spiking the refreshments—with fatal results . . .

With autumn in full swing and Thanksgiving on the way, Krissy's supplying cider and her staff is manning the apple-bobbing booth at a town event. But then a patron dunks his head in—and doesn't come back up.

It soon becomes clear that Krissy's brew wasn't to blame. But with her policeman boyfriend looking to make detective, she can't help being drawn into the investigation. The victim was notorious for harassing not only her own bookstore but the library and the school for promoting supposedly scandalous literature—before someone censored him permanently. Now, Krissy will have to check out a stack of suspects to find a killer who's rotten to the core . . .
To learn more about the author and their other books, click here. https://amzn.to/3hpIG6c
To buy the full series on Kindle ebook, click here. https://amzn.to/3k4eUpp
To the Tome of Murder (A Beyond the Page Bookstore Mystery Book 7) by Lauren Elliott
Release date – October 26, 2021
From the Amazon description – Three weeks before Thanksgiving, bookshop owner Addie Greyborne already has a full plate—and a killer on her case . . .

Addie's determined to turn a seemingly ordinary November in coastal Greyborne Harbor into one for the books. The windows of her shop display carefully curated works by American writers, including a rare selection of traditional holiday recipes from the influential 19th-century publication Godey's Ladies Magazine. And then there's the town's Civil War-era themed cooking and baking competition, with a hefty cash prize and free publicity going to the winning dish . . .

But when she finds her cousin's boyfriend murdered, a stunned Addie reluctantly realizes she may be the only person who can blow the cover off a grisly crime. With so many unanswered questions surrounding the victim's death, Addie must figure out the strange connection between a mysterious vintage briefcase, the disappearance of a first edition copy of Sarah Josepha Hale's famous nursery rhyme, "Mary Had a Little Lamb," and a dangerously well-read culprit . . .
To learn more about the author, click here.https://amzn.to/3C1VPKw
To buy the full series on Kindle ebook, click here. https://amzn.to/3hrN7NH
Well, I hope these books and series help get you into the swing of falling leaves and smiling pumpkins. If you read any of these, please let me know how you liked them. That's all I have for today, train wrecks. All aboard.
Make a one-time donation
Make a monthly donation
Make a yearly donation
Choose an amount
Or enter a custom amount
$
---
Your contribution is appreciated.
Your contribution is appreciated.
Your contribution is appreciated.
Donate
Donate monthly
Donate yearly
You can buy a copy of the movie here. If you use my link, I may earn a small commission so thank you.
We had just finished seeing 10 Cloverfield Lane. If you haven't watched it yet, I strongly recommend it. I'll wait for you. Okay, did you happen to watch it? That's quite excellent, isn't it?
However, the more I watched, the clearer it seemed to me what the movie was really about. If you haven't seen it yet, be warned that I will be dropping spoilers all over the place. It's more like I'm going to go over the whole narrative again, so consider this your last warning. If you haven't watched the movie yet but would want to, then you should stop reading right now!

You've got this young woman named Michelle who is trying to get away from her difficult circumstances by running away. It is her coping mechanism, however flawed it may be, and it has served her well so far. She is involved in a vehicle accident as she is once again fleeing from her issues. On waking, she finds an IV of fluids connected up to her arm and a knee brace tied to the wall. She immediately calls for help. This is when I began to see a pattern.

Howard, a big, older guy who seems to be in command, enters the scene. Howard is completely devoid of sympathy or humanity. Michelle is not comforted by him. In fact, he seems to be very pleased with the fact that she was afraid of him and the position she finds herself in. He informs her of this whenever the chance presents itself. Her life has been saved by him, and he has no qualms about reminding her that she should be thankful for all he has done for her. No matter what Howard tells her about what's going on outside of his tiny bunker under the farmhouse, she should never question it or challenge it. In the event that he claims that the air is poisonous and would kill you, you best trust him. If he informs you that all of your friends and family members have died, it is likely that no one is searching for you. It's pointless to attempt to go away from here.
In this post-apocalyptic survival bunker, there is a wounded younger guy, Emmett, who needs to be rescued. Howard arrives as Michelle inquires as to how he sustained his injury, which is a broken arm in a sling. Howard says that Emmett was the one who injured himself by tripping about.
Howard gave me the shivers right from the start, like the clues of a nightmare that you can't quite recall the details of yet. I couldn't quite put my finger on what it was about this movie that was making me feel so uneasy. My skin crawled and my stomach twisted as a result of this experience. This was not your typical horror film; there was no blood or gore, and there were no murderers wielding machetes or chain saws. This seemed like it was a personal attack. And suddenly it dawned on me.
This was the tale of a woman who was subjected to domestic violence and had the strength to flee and survive. This was a tale about surviving. Howard is a bully who takes advantage of the fact that he saved Michelle's life to further his own interests. She is now cut off from the rest of the world outside the bunker, and the only information she has comes from Howard. Using a tale about his daughter and wife abandoning him, he attempted to get compassion from the audience. You should feel sorry for him. He just tried to do his best, and no one seemed to notice or appreciate him or his efforts. When Michelle fails to express her appreciation for Howard's generosity, he explodes in anger.
Michelle creates a Biohazard suit with the help of her talents as a clothes designer. She gathers her strength and manages to flee. It wasn't a simple task. Howard learned her intentions and engaged in a scuffle and pursuit. She, on the other hand, made it out alive. And it is at this point that the true survival tale begins, as it does for many survivors of domestic abuse and sexual assault.
So often, abuse victims are told that they would never be able to live outside of the relationship. You're not intelligent enough, you're not attractive enough, and you don't have any money. The only way you'll be able to survive is if you live with me. There is no one else who will take you. Michelle discovers that there are hazards out in the world and that Howard was not as insane as he seemed to be. Michelle delves deep inside herself and conjures strength that rivals that of any superhero. As she drives away, she hears a voice on the radio. The same radio that Howard had before said had no service. There are survivors in Houston, and they need assistance. Michelle comes to a complete stop while staring at the traffic signs, both to avoid danger and to assist others.
Is it possible that I'm digging into this too much? Maybe. This, though, was the lesson I took away from the film. Here is a story of a young woman who finds herself in an abusive relationship. This has happened far too many times for victims to wake up and understand what has been going on all along, but they were blind to it. And, despite the bullying and fear of being on the verge of death, she manages to escape. Her perspective has been shifted as a result of the event. Instead of fleeing, she assists others in becoming survivors rather than victims of the situation.
People have approached me and asked me what the purpose of my writing is. What is the purpose of my blog? What do I expect to accomplish as a result of this? I want to be like Michelle and assist others in discovering the inner power that exists inside them. Michelle had a greatness inside her. Many times, our inner greatness isn't shown until a crisis situation arises in our lives. When was the last time you stated to yourself, "I didn't realize I had it in me?" You were able to rely on your own brilliance. You are desperate for that greatness to manifest itself, as if your whole existence relies on it. Because it is true. Others may have a greater opportunity of realizing their own potential as a result of your accomplishments. Due to your determination, more survivors will continue to make the world a better place because of your example.
If you are in an abusive relationship, please contact this hotline at 1-800-799-7233 for assistance. That is the number for the domestic violence hotline. You have earned the right to live in peace, free of fear and injuries.
Make a one-time donation
Make a monthly donation
Make a yearly donation
Choose an amount
Or enter a custom amount
$
---
Your contribution is appreciated.
Your contribution is appreciated.
Your contribution is appreciated.
Donate
Donate monthly
Donate yearly
Spooky season is getting closer. (I'm writing this while wearing my Halloween pajamas and drinking a pumpkin spice coffee.) And while I enjoy a good ghost story, Stephen King, or Grady Hendrix, I have fallen down the rabbit hole of true crime. With so many podcasts and YouTube channels out there (I'm looking at you Bailey Sarian and And That's Why We Drink) it's hard to stay away when the storytellers are so good. Sometimes, you need something a little longer than an hour. You need more detail, more facts about the crime, the victims, the killer, and the motive. So, lock your doors, get cozy, and check out this list of true crime to read this season.
We Keep the Dead Close: A Murder at Harvard and a Half Century of Silence by Becky Cooper
To buy this, click the link. If you click on any link I post in any of my blogs, I may earn a small commission. So, thank you.
From the Amazon description –
A Recommended Book from: New York Times * Publishers Weekly * Kirkus * BookRiot * Booklist * Boston Globe * Goodreads * Town & Country * Refinery29 * CrimeReads * Glamour
Dive into a "tour de force of investigative reporting" (Ron Chernow): a "searching, atmospheric and ultimately entrancing" (Patrick Radden Keefe) true crime narrative of an unsolved 1969 murder at Harvard and an "exhilarating and seductive" (Ariel Levy) narrative of obsession and love for a girl who dreamt of rising among men.
You have to remember, he reminded me, that Harvard is older than the US government. You have to remember because Harvard doesn't let you forget.
1969: the height of counterculture and the year universities would seek to curb the unruly spectacle of student protest; the winter that Harvard University would begin the tumultuous process of merging with Radcliffe, its all-female sister school; and the year that Jane Britton, an ambitious 23-year-old graduate student in Harvard's Anthropology Department and daughter of Radcliffe Vice President J. Boyd Britton, would be found bludgeoned to death in her Cambridge, Massachusetts apartment.
Forty years later, Becky Cooper a curious undergrad, will hear the first whispers of the story. In the first telling the body was nameless. The story was this: a Harvard student had had an affair with her professor, and the professor had murdered her in the Peabody Museum of Archaeology and Ethnology because she'd threatened to talk about the affair. Though the rumor proves false, the story that unfolds, one that Cooper will follow for ten years, is even more complex: a tale of gender inequality in academia, a "cowboy culture" among empowered male elites, the silencing effect of institutions, and our compulsion to rewrite the stories of female victims. We Keep the Dead Close is a memoir of mirrors, misogyny, and murder. It is at once a rumination on the violence and oppression that rules our revered institutions, a ghost story reflecting one young woman's past onto another's present, and a love story for a girl who was lost to history.
*Special audiobook bonus PDF includes photos and source notes*
Notes on a Silencing: A Memoir by Lacy Crawford
From the Amazon description –
A "powerful and scary and important and true" memoir of a young woman's struggle to regain her sense of self after trauma, and the efforts by a powerful New England boarding school to silence her — at any cost (Sally Mann, author of Hold Still).
When Notes on a Silencing hit bookstores in the summer of 2020, even amidst a global pandemic, it sent shockwaves through the country. Not only did this intimate investigative memoir usher in a media storm of coverage, but it also prompted the elite St. Paul's School to issue a formal apology to the author, Lacy Crawford, for its handling of her report of sexual assault by two fellow students nearly 30 years ago.
In this searing book, Crawford tells the story of coming forward during the state investigation of the elite New England prep school decades after her assault, only to find for the first time evidence that corroborated her memories. Here were depictions of the naïve, hardworking girl she'd been, as well as astonishing proof of an institutional silencing. The slander, innuendo, and lack of adult concern that Crawford had experienced as a student hadn't been imagined; they were the actions of a school that prized its reputation above anything, even a child.
This revelation launched Crawford on an extraordinary inquiry deep into gender, privilege, and power, and the ways shame and guilt are used to silence victims. Insightful, arresting, and beautifully written, Notes on a Silencing wrestles with an essential question for our time: what telling of a survivor's story will finally force a remedy?
"Erudite and devastating…. Crawford's writing is astonishing…. Notes on a Silencing is a purposefully named, brutal and brilliant retort to the asinine question of 'Why now?'…. The story is crafted with the precision of a thriller, with revelations that sent me reeling…." (Jessica Knoll, New York Times)
A Best Book of the Year: Time, NPR, People, Real Simple, Marie Claire, The Lineup, LitHub, Library Journal, BookPage, and Shelf Awareness
A New York Times Book Review Notable Book
A New York Times Book Review Editors' Choice
One of People Magazine's 10 Best Books of the Year
Semifinalist for a Goodreads Choice Award
The Third Rainbow Girl: The Long Life of a Double Murder in Appalachia by Emma Copley Eisenberg
From the Amazon description –
A stunning, complex narrative about the fractured legacy of a decades-old double murder in rural West Virginia – and the writer determined to put the pieces back together.
In the early evening of June 25, 1980 in Pocahontas County, West Virginia, two middle-class outsiders named Vicki Durian, 26, and Nancy Santomero, 19, were murdered in an isolated clearing. They were hitchhiking to a festival known as the Rainbow Gathering but never arrived. For 13 years, no one was prosecuted for the "Rainbow Murders", though deep suspicion was cast on a succession of local residents in the community, depicted as poor, dangerous, and backward.
In 1993, a local farmer was convicted, only to be released when a known serial killer and diagnosed schizophrenic named Joseph Paul Franklin claimed responsibility. As time passed, the truth seemed to slip away, and the investigation itself inflicted its own traumas – turning neighbor against neighbor and confirming the fears of violence outsiders have done to this region for centuries.
In The Third Rainbow Girl, Emma Copley Eisenberg uses the Rainbow Murders case as a starting point for a thought-provoking tale of an Appalachian community bound by the false stories that have been told about it. Weaving in experiences from her own years spent living in Pocahontas County, she follows the threads of this crime through the complex history of Appalachia, revealing how this mysterious murder has loomed over all those affected for generations, shaping their fears, fates, and desires.
Beautifully written and brutally honest, The Third Rainbow Girl presents a searing and wide-ranging portrait of America – divided by gender and class and haunted by its own violence.
Memorial Drive: A Daughter's Memoir by Natasha Tretheway
From the Amazon description –
An Instant New York Times Best Seller
A New York Times Notable Book
One of Barack Obama's Favorite Books of 2020
Named One of the Best Books of the Year by: Washington Post, NPR, Shelf Awareness, Esquire, Electric Literature, Slate, The Los Angeles Times, USA Today, and InStyle
A chillingly personal and exquisitely wrought memoir of a daughter reckoning with the brutal murder of her mother at the hands of her former stepfather, and the moving, intimate story of a poet coming into her own in the wake of a tragedy.
At age 19, Natasha Trethewey had her world turned upside down when her former stepfather shot and killed her mother. Grieving and still new to adulthood, she confronted the twin pulls of life and death in the aftermath of unimaginable trauma and now explores the way this experience lastingly shaped the artist she became.
With penetrating insight and a searing voice that moves from the wrenching to the elegiac, Pulitzer Prize-winning poet Natasha Trethewey explores this profound experience of pain, loss, and grief as an entry point into understanding the tragic course of her mother's life and the way her own life has been shaped by a legacy of fierce love and resilience. Moving through her mother's history in the deeply segregated South and through her own girlhood as a "child of miscegenation" in Mississippi, Trethewey plumbs her sense of dislocation and displacement in the lead-up to the harrowing crime that took place on Memorial Drive in Atlanta in 1985.
Memorial Drive is a compelling and searching look at a shared human experience of sudden loss and absence but also a piercing glimpse at the enduring ripple effects of white racism and domestic abuse. Animated by unforgettable prose and inflected by a poet's attention to language, this is a luminous, urgent, and visceral memoir from one of our most important contemporary writers and thinkers.
American Sherlock: Murder, Forensics, and the Birth of American CSI by Kate Winkler Dawson
From the acclaimed author of Death in the Air comes the riveting story of the birth of criminal investigation in the 20th century.
Berkeley, California, 1933. In a lab filled with curiosities – beakers, microscopes, Bunsen burners, and hundreds upon hundreds of books – sat an investigator who would go on to crack at least 2,000 cases in his 40-year career. Known as the "American Sherlock Holmes", Edward Oscar Heinrich was one of America's greatest – and first – forensic scientists, with an uncanny knack for finding clues, establishing evidence, and deducing answers with a skill that seemed almost supernatural.
Heinrich was one of the nation's first expert witnesses, working in a time when the turmoil of Prohibition led to sensationalized crime reporting and only a small, systematic study of evidence. However, with his brilliance and commanding presence in both the courtroom and at crime scenes, Heinrich spearheaded the invention of a myriad of new forensic tools that police still use today, including blood spatter analysis, ballistics, lie-detector tests, and the use of fingerprints as courtroom evidence. His work, though not without its serious – some would say fatal – flaws, changed the course of American criminal investigation.
Based on years of research and thousands of never-before-published primary source materials, American Sherlock captures the life of the man who pioneered the science our legal system now relies upon – as well as the limits of those techniques and the very human experts who wield them.
Unspeakable Acts: True Tales of Crime, Murder, Deceit, and Obsession by Sara Weinman
From the Amazon description –
A brilliant anthology of modern true-crime writing that illustrates the appeal of this powerful and popular genre, edited and curated by Sarah Weinman, the award-winning author of The Real Lolita.
The appeal of true-crime stories has never been higher. With podcasts like My Favorite Murder and In the Dark, best sellers like I'll Be Gone in the Dark and Furious Hours, and TV hits like American Crime Story and Wild Wild Country, the cultural appetite for stories of real people doing terrible things is insatiable.
Acclaimed author of The Real Lolita and editor of Women Crime Writers: Eight Suspense Novels of the 1940s & 50s (Library of America) and Troubled Daughters, Twisted Wives (Penguin), Sarah Weinman brings together an exemplary collection of recent true-crime tales. She culls together some of the most refreshing and exciting contemporary journalists and chroniclers of crime working today.
Michelle Dean's "Dee Dee Wanted Her Daughter to Be Sick" went viral when it was first published and is the basis for the TV show The Act, and Pamela Colloff's "The Reckoning" is the gold standard for forensic journalism.
There are 13 pieces in all, and as a collection, they showcase writing about true crime across the broadest possible spectrum, while also reflecting what makes crime stories so transfixing and irresistible to modern audiences.
Supplemental enhancement PDF accompanies the audiobook.
PLEASE NOTE: When you purchase this title, the accompanying PDF will be available in your Audible Library along with the audio.
The Woman Who Stole Vermeer: The True Story of Rose Dugdale and the Russborough House Art Heist by Anthony M. Amore
From the Amazon description –
The extraordinary life and crimes of heiress-turned-revolutionary Rose Dugdale, who in 1974 became the only woman to pull off a major art heist.
In the world of crime, there exists an unusual commonality between those who steal art and those who repeatedly kill: they are almost exclusively male. But, as with all things, there is always an outlier – someone who bucks the trend, defying the reliable profiles and leaving investigators and researchers scratching their heads. In the history of major art heists, that outlier is Rose Dugdale.
Dugdale's life is singularly notorious. Born into extreme wealth, she abandoned her life as an Oxford-trained PhD and heiress to join the cause of Irish Republicanism. While on the surface she appears to be the British version of Patricia Hearst, she is anything but.
Dugdale ran head-first towards the action, spearheading the first aerial terrorist attack in British history and pulling off the biggest art theft of her time. In 1974, she led a gang into the opulent Russborough House in Ireland and made off with millions in prized paintings, including works by Goya, Gainsborough, and Rubens, as well as Lady Writing a Letter with her Maid by the mysterious master Johannes Vermeer. Dugdale thus became – to this day—the only woman to pull off a major art heist. And as Anthony Amore explores in The Woman Who Stole Vermeer, it's likely that this was not her only such heist.
The Woman Who Stole Vermeer is Rose Dugdale's story, from her idyllic upbringing in Devonshire and her presentation to Elizabeth II as a debutante to her university years and her eventual radical lifestyle. Her life of crime and activism is at turns unbelievable and awe-inspiring, and sure to engross readers.
The Killer's Shadow: The FBI's Hunt for a White Supremacist Serial Killer by John E. Douglas and Mark Olshaker
The legendary FBI criminal profiler and international best-selling author of Mindhunter and The Killer Across the Table returns with this timely, relevant book that goes to the heart of extremism and domestic terrorism, examining in-depth his chilling pursuit of, and eventual prison confrontation with Joseph Paul Franklin, a White Nationalist serial killer and one of the most disturbing psychopaths he has ever encountered.
Worshippers stream out of an Midwestern synagogue after sabbath services, unaware that only a hundred yards away, an expert marksman and avowed racist, antisemite and member of the Ku Klux Klan, patiently awaits, his hunting rifle at the ready.
The October 8, 1977 shooting was a forerunner to the tragedies and divisiveness that plague us today. John Douglas, the FBI's pioneering, first full-time criminal profiler, hunted the shooter – a white supremacist named Joseph Paul Franklin, whose Nazi-inspired beliefs propelled a three-year reign of terror across the United States, targeting African Americans, Jews, and interracial couples. In addition, Franklin bombed the home of Jewish leader Morris Amitay, shot and paralyzed Hustler magazine publisher Larry Flynt, and seriously wounded civil rights leader Vernon Jordan. The fugitive supported his murderous spree robbing banks in five states, from Georgia to Ohio. Douglas and his writing partner Mark Olshaker return to this disturbing case that reached the highest levels of the Bureau, which was fearful Franklin would become a presidential assassin – and haunted him for years to come as the threat of copycat domestic terrorist killers increasingly became a reality.
Detailing the dogged pursuit of Franklin that employed profiling, psychology and meticulous detective work, Douglas and Olshaker relate how the case was a make-or-break test for the still-experimental behavioral science unit and revealed a new type of, determined, mission-driven serial killer whose only motivation was hate. A riveting, cautionary tale rooted in history that continues to echo today, The Killer's Shadow is a terrifying and essential exploration of the criminal personality in the vile grip of extremism and what happens when rage-filled speech evolves into deadly action and hatred of the "other" is allowed full reign.
America's First Female Serial Killer: Jane Toppan and the Making of a Monster by Mary Kay McBrayer
From the Amazon description –
This is Capote's In Cold Blood for serial killer enthusiasts: meticulously researched, superbly written, and incredibly vivid. Don't miss it." —Gabino Iglesias, author of Coyote Songs
America's First Female Serial Killer novelizes the true story of first-generation Irish-American nurse Jane Toppan, born as Honora Kelley. Although all the facts are intact, books about her life and her crimes are all facts and no story. Jane Toppan was absolutely a monster, but she did not start out that way.
When Jane was a young child, her father abandoned her and her sister to the Boston Female Asylum. From there, Jane was indentured to a wealthy family who changed her name, never adopted her, wrote her out of the will, and essentially taught her how to hate herself. Jilted at the altar, Jane became a nurse and took control of her life—and the lives of her victims.
"A thoughtful and inspired take on one of the greatest poisoners in history. America's First Female Serial Killer: Jane Toppan and the Making of a Monster seethes with rage, compulsion, and a righteous condemnation of the servitude of the underclass. A chilling and sobering read." —Robert Levy, author of The Glittering World
"McBrayer offers us a complex—and terrifying—portrait of a killer who seemed almost doomed from birth." —Kate Winkler Dawson, author of American Sherlock: Murder, Forensics, and the Birth of American CSI
"Brings the horrifying true story of Jane Toppan to lurid, novelistic life, and forces the reader face-to-face with the thoughtlessness and cruelty that helped turn a gifted, damaged child into one of America's most legendary killers." —Shaun Hamill, author of A Cosmology of Monsters
Magnetized: Conversations with a Serial Killer by Carlos Busqued
Over the course of one ghostly week in September 1982, the bodies of four taxi drivers were found in Buenos Aires, each murder carried out with the same cold precision. The assailant was a 19-year-old boy, odd and taciturn, who gave the impression of being completely sane. But the crimes themselves were not: four murders, as exact as they were senseless.
More than 30 years later, Argentine author Carlos Busqued began visiting Ricardo Melogno, the serial killer, in prison. Their conversations return to the nebulous era of the crimes and a story full of missing pieces. The result is a book at once hypnotic and unnerving, constructed from forensic documents, newspaper clippings, and interviews with Melogno himself. Without imposing judgment, Busqued allows for the killer to describe his way of retreating from the world and to explain his crimes as best he can.
In his own words, Melogno recalls a visit from Pope Francis, grim depictions of daily life in prison, and childhood remembrances of an unloving mother who drove her son to Brazil to study witchcraft. As these conversations progress, the focus slowly shifts from the crimes themselves to Melogno's mistreatment and misdiagnosis while in prison to his current fate: incarcerated in perpetuity despite having served his full sentence.
Savage Appetites: Four True Stories of Women, Crime and Obsession by Rachel Monroe
A "necessary and brilliant" (NPR) exploration of our cultural fascination with true crime told through four "enthralling" (The New York Times Book Review) narratives of obsession.
In Savage Appetites, Rachel Monroe links four criminal roles – detective, victim, defender, and killer – to four true stories about women driven by obsession. From a frustrated and brilliant heiress crafting crime-scene dollhouses to a young woman who became part of a Manson victim's family, from a landscape architect in love with a convicted murderer to a Columbine fangirl who planned her own mass shooting, these women are alternately mesmerizing, horrifying, and sympathetic.
A revealing study of women's complicated relationship with true crime and the fear and desire it can inspire, together these stories provide a window into why many women are drawn to crime narratives – even as they also recoil from them. Monroe uses these four cases to trace the history of American crime through the growth of forensic science, the evolving role of victims, the Satanic Panic, the rise of online detectives, and the long shadow of the Columbine shooting. Combining personal narrative, reportage, and a sociological examination of violence and media in the 20th and 21st centuries, Savage Appetites is a "corrective to the genre it interrogates" (The New Statesman), scrupulously exploring empathy, justice, and the persistent appeal of crime.
From art heists to serial killers, this true crime list is sure to give you chills even under your comfy blanket on the couch. Double check that top lock and let me know if you read any of these. Tell us what you think.
That's all I have for today train wrecks. All aboard.
What's that? You don't have Audible? You're curious and you want to check it out without a commitment? Have no fear. Just click here. https://adbl.co/3DOjj7B Not only will you get to experience Audible for free for 30 days but you'll also get a free copy of my cozy mystery novel "Nothing Like A Pool Party." Audible is the leading provider of audio books. They have over 180,000 of audio books to choose from. This is the best place for audio books and I cannot recommend it enough.
Make a one-time donation
Make a monthly donation
Make a yearly donation
Choose an amount
Or enter a custom amount
$
---
Your contribution is appreciated.
Your contribution is appreciated.
Your contribution is appreciated.
Donate
Donate monthly
Donate yearly
So, I made the tragic mistake of turning to BookTok for book recommendations. I'm not that target audience. Don't get me wrong. I did find "The Invisible Life of Addie LaRue," "We Were Liars," and "The Seven Husbands of Evelyn Hugo" on there. But for the most part, there is a lot of YA and that ain't me, babe. I recently discovered Likewise. Likewise is a site/app that lets you find more of what you're looking for based on what you've already enjoyed. Books, movies, TV shows, that sort of thing. And if you're in a reading slump, it can suggest things for you to help you get back on the horse. Check out this week's trending titles as listed by Likewise. I will post the link so you can buy the book if you're interested. If you do use my links, I may earn a small commission. Thank you.
The Turnout by Megan Abbott
From the Amazon description –
An Instant New York Times Bestseller

A TODAY Show #ReadWithJenna Book Club Pick

New York Times bestselling and award-winning author Megan Abbott's exquisite and disquieting new novel, "dark and juicy and tinged with horror" (The New York Times Books Review), set against the hothouse of a family-run ballet studio.
With their long necks and matching buns and pink tights, Dara and Marie Durant have been dancers since they can remember. Growing up, they were homeschooled and trained by their glamorous mother, founder of the Durant School of Dance. After their parents' death in a tragic accident nearly a dozen years ago, the sisters began running the school together, along with Charlie, Dara's husband and once their mother's prized student.

Marie, warm and soft, teaches the younger students; Dara, with her precision, trains the older ones; and Charlie, sidelined from dancing after years of injuries, rules over the back office. Circling around one another, the three have perfected a dance, six days a week, that keeps the studio thriving. But when a suspicious accident occurs, just at the onset of the school's annual performance of The Nutcracker—a season of competition, anxiety, and exhilaration—an interloper arrives and threatens the sisters' delicate balance.
Taut and unnerving, The Turnout is Megan Abbott at the height of her game. With uncanny insight and hypnotic writing, it is a sharp and strange dissection of family ties and sexuality, femininity and power, and a tale that is both alarming and irresistible.
To learn more about the author and their books, please click here https://amzn.to/3kWq5zx
Immediate Family: A Novel by Ashely Nelson Levy
From the Amazon description –
A goop book club selection • Amazon Editors' Choice
"This unsparing and absorbing family portrait broke my heart and remade it a hundred times over." —Rachel Khong, author of Goodbye, Vitamin
It is the day of her brother's wedding and our narrator is still struggling with her toast. Despite a recent fracture between them, her brother, Danny, has asked her to give a speech and she doesn't know where to begin, how to put words to their kind of love. She was nine years old when she traveled with her parents to Thailand to meet her brother, six years her junior. They grew up together like any other siblings, and shared a bucolic childhood in Northern California. Yet when she holds their story up to the light, it refracts in ways she doesn't expect.
What follows is a heartfelt letter addressed to Danny and an attempt at a full accounting of their years growing up, invoking everything from the classic Victorian adoption plot to childless women in literature to documents from Danny's case file. It's also a confession of sorts to the parts of her life that she has kept from him, including her own struggle with infertility. And as the hours until the wedding wane, she uncovers the words that can't and won't be said aloud.
In Immediate Family, a tender and fierce debut novel, Ashley Nelson Levy explores the enduring bond between two siblings and the complexities of motherhood, infertility, race, and the many definitions of family.
To learn more about the author and their other books, click here https://amzn.to/3DNcG5n
Damnation Spring by Ash Davidson
Release date – August 3, 2021
From the Amazon description –
NATIONAL BESTSELLER
A MOST ANTICIPATED BOOK: Entertainment Weekly, Oprah Daily, Vogue, Los Angeles Times, The Daily Beast, CNN, Harper's Bazaar
"A glorious book—an assured novel that's gorgeously told." —The New York Times Book Review
"An incredibly moving epic about an unforgettable family." —CBS Sunday Morning
"[An] absorbing novel…I felt both grateful to have known these people and bereft at the prospect of leaving them behind." —The Washington Post
A stunning novel about love, work, and marriage that asks how far one family and one community will go to protect their future.
Colleen and Rich Gundersen are raising their young son, Chub, on the rugged California coast. It's 1977, and life in this Pacific Northwest logging town isn't what it used to be. For generations, the community has lived and breathed timber; now that way of life is threatened.
Colleen is an amateur midwife. Rich is a tree-topper. It's a dangerous job that requires him to scale trees hundreds of feet tall—a job that both his father and grandfather died doing. Colleen and Rich want a better life for their son—and they take steps to assure their future. Rich secretly spends their savings on a swath of ancient Redwoods. Colleen, desperate to have a second baby, challenges the logging company's use of herbicides that she believes are responsible for the many miscarriages in the community—including her own. Colleen and Rich find themselves on opposite sides of a budding conflict that threatens the very thing they are trying to protect: their family.
Told in prose as clear as a spring-fed creek, Damnation Spring is an intimate, compassionate portrait of a family whose bonds are tested and a community clinging to a vanishing way of life. An extraordinary story of the transcendent, enduring power of love—between husband and wife, mother and child, and longtime neighbors. An essential novel for our times.
To learn more about the author and their other books, click here https://amzn.to/3jNU11z
All's Well: A Novel by Mona Awad
From the Amazon description –
From the author of Bunny, which Margaret Atwood hails as "genius," comes a dazzling and darkly funny novel about a theater professor who is convinced staging Shakespeare's most maligned play will remedy all that ails her—but at what cost?
A MOST ANTICIPATED BOOK OF SUMMER 2021 SELECTED BY * ENTERTAINMENT WEEKLY * VULTURE * LITHUB * REFINERY29 * GOODREADS * POPSUGAR * NOW MAGAZINE * BOSTON * AND MORE
"[A] sparkling valentine to the Bard. A dream of a novel, perfect for a midsummer night's read."—OPRAH DAILY
"A dazzling wild ride of a novel—daring, fresh, entertaining, and magical." —GEORGE SAUNDERS
"Wild and exhilarating and so fresh it takes your breath away." —LAUREN GROFF
"Oh my lord what a fabulous novel—knocked me out!"—MARY KARR
Miranda Fitch's life is a waking nightmare. The accident that ended her burgeoning acting career left her with excruciating, chronic back pain, a failed marriage, and a deepening dependence on painkillers. And now she's on the verge of losing her job as a college theater director. Determined to put on Shakespeare's All's Well That Ends Well, the play that promised, and cost, her everything, she faces a mutinous cast hellbent on staging Macbeth instead. Miranda sees her chance at redemption slip through her fingers.
That's when she meets three strange benefactors who have an eerie knowledge of Miranda's past and a tantalizing promise for her future: one where the show goes on, her rebellious students get what's coming to them, and the invisible, doubted pain that's kept her from the spotlight is made known.
With prose Margaret Atwood has described as "no punches pulled, no hilarities dodged…genius," Mona Awad has concocted her most potent, subversive novel yet. All's Well is the story of a woman at her breaking point and a formidable, piercingly funny indictment of our collective refusal to witness and believe female pain.
To learn more about the author and their other books, click here https://amzn.to/2Vn7zaU
The Husbands: A Novel by Chandler Baker
From the Amazon description –
A GOOD MORNING AMERICA BOOK CLUB PICK
"Chandler Baker, queen of the feminist thriller, has delivered once again! The Husbands is a poignant exploration of what it would take for women to have it all." —Sally Hepworth, bestselling author of The Good Sister

To what lengths will a woman go for a little more help from her husband?
Nora Spangler is a successful attorney but when it comes to domestic life, she packs the lunches, schedules the doctor appointments, knows where the extra paper towel rolls are, and designs and orders the holiday cards. Her husband works hard, too… but why does it seem like she is always working so much harder?
When the Spanglers go house hunting in Dynasty Ranch, an exclusive suburban neighborhood, Nora meets a group of high-powered women—a tech CEO, a neurosurgeon, an award-winning therapist, a bestselling author—with enviably supportive husbands. When she agrees to help with a resident's wrongful death case, she is pulled into the lives of the women there. She finds the air is different in Dynasty Ranch. The women aren't hanging on by a thread.
But as the case unravels, Nora uncovers a plot that may explain the secret to having-it-all. One that's worth killing for. Calling to mind a Stepford Wives gender-swap, New York Times bestselling author of Whisper Network Chandler Baker's The Husbands imagines a world where the burden of the "second shift" is equally shared—and what it may take to get there.
"Utterly engrossing and thoroughly timely, The Husbands is both a gripping, well-crafted mystery and an insightful critique of motherhood and marriage in the modern age–working mothers everywhere will feel seen in the best possible way."
—Kimberly McCreight, New York Times bestselling author of A Good Marriage
To learn more about the author and their other books, click here https://amzn.to/3n8KfsK
Hope this list helps you find your next read. If it does, let us know what you think of it. Until then, all aboard, train wreck.
You may be wondering how I read so many books. Simple. I use Audible. Audible is the leading provider of audio books. They have over 180,000 of audio books to choose from.
Click this link – https://adbl.co/3teLwiR for a free 30 day trial of Audible and a free copy of the 1st in my cozy mystery series "Nothing Like a Pool Party." This is the
best place for audio books and I cannot recommend it enough.
Make a one-time donation
Make a monthly donation
Make a yearly donation
Choose an amount
Or enter a custom amount
$
---
Your contribution is appreciated.
Your contribution is appreciated.
Your contribution is appreciated.
Donate
Donate monthly
Donate yearly
Welcome aboard, train wreck. I'm a big fan of free and cheap books. I'll try to remember to post these weekly. Always check before purchasing. The prices are accurate at time of posting. These are for Kindle books only. No Kobo or Nook or paperbacks. If you use the links I post to purchase the book, I may earn a small commission. So, thank you.
Three More Dogs in a Row: Golden Retriever Mysteries 4 – 6 by Neil Plakcy
Price – Free at time of posting
From the Amazon description – This collection of the fourth, fifth and sixth in the Golden Retriever Mystery series is sure to delight dog lovers and fans of cozy mysteries. in Dog Bless You, clue-sniffing golden Rochester digs up a long-buried human hand at the site of his human dad Steve's new job. In Whom Dog Hath Joined, Rochester's at it again, sniffing out a mystery with its roots in the Quaker efforts to help Vietnam war resisters. In Dog Have Mercy, it's Christmas and Steve and Rochester need to help clear the name of an ex-con working at their vet's office. Don't worry– Rochester is never going to come to harm, though he and Steve certainly get into trouble!
Brimstone Witch Mysteries – Books 1 to 13 by April Fernsby
Price – Free at time of posting
From the Amazon description –
Enter the magical town of Brimstone where mystical beings live in harmony with each other. Usually.
Having recently discovered she's a witch, Cassia Winter is called upon to investigate murders in the town. With the help of her cat, Stanley, she faces whatever challenges are thrown their way.
But things don't always go to plan and Cassia has to find the strength and determination to keep going even when black magic causes her allies to turn against her.
A collection of thirteen cozy murder mysteries full of magic, supernatural beings and surprising twists.
Book 1 – Murder Of A Werewolf
Book 2 – As Dead As A Vampire
Book 3 – The Centaur's Last Breath
Book 4 – The Sleeping Goblin
Book 5 – The Silent Banshee
Book 6 – The Murdered Mermaid
Book 7 – The End Of The Yeti
Book 8 – Death Of A Rainbow Nymph
Book 9 – The Witch Is Dead
Book 10 – A Deal With The Grim Reaper
Book 11 – A Grotesque Murder
Book 12 – The Missing Unicorn
Book 13 – The Satyr's Secret
Trunk Show Murder (A Seagrove Cozy Mystery Book 2) by Leona Fox
Price – Free at time of posting
From the Amazon description –
Sadie and her best friend are buzzing with excitement. With a jewelry trunk show planned, they know that they and their guests are in for a special treat, but that excitement soon sours when one of their most prominent, yet annoying customers doesn't show and is found murdered.
With no idea where to begin, Chief Woodstone is at a loss, but Sadie thinks she has an idea and is determined to follow the clues to find a killer. Using her inside information, Sadie is hot on the trail of the elusive murderer. Let's just hope her hunch is right!
To learn more about the author and their other books, click here https://www.amazon.com/Leona-Fox/e/B016QSA7RK?&linkCode=sl2&tag=glorioustra08-20&linkId=2957b4830058f3d6f87c5bfd36831375&language=en_US&ref_=as_li_ss_tl
Involuntary Turnover (Kat Voyzey Mysteries Book 1) – by Cheri Baker
Price – Free at time of posting
When a beloved coworker is murdered at the hospital, who will insist that justice be done? Meet Kat Voyzey, a most unlikely sleuth.
HR director Kat Voyzey has a talent for getting things done. Whether it's brawling employees, difficult bosses, or dress code drama, she knows how to handle a crisis. But when an employee is murdered at the Seattle hospital where she works and the police try to blame the victim, Kat's concerns fall on deaf ears.
Fueled by an endless supply of coffee, and assisted by a colorful cast of coworkers, Kat is determined to bring the murderer to justice and clear her coworker's name. But will her investigation put her in the cross-hairs of a killer?
To learn more about the author and her other books, click here https://amzn.to/3h1RwGY
That's all I have for this week. Remember to check the price before you click buy. If you check out any of these books, let us know in the comments how you liked it. Until then, all aboard, train wrecks.
Want more out of your Kindle app or device? Check out Kindle Unlimited. Kindle Unlimited is a service that allows you to read as much as you want, choosing from over 2 million titles, thousands of audiobooks, and up to three select magazine subscriptions. Explore new authors, books, and genres from mysteries and romance to sci-fi and more. You can read on any device. It's available for $9.99 a month and you can cancel anytime. And you can check it out for 30 days free. Just click here https://amzn.to/3yOQBj4. Thank you.
Make a one-time donation
Make a monthly donation
Make a yearly donation
Choose an amount
Or enter a custom amount
$
---
Your contribution is appreciated.
Your contribution is appreciated.
Your contribution is appreciated.
Donate
Donate monthly
Donate yearly
The color of the leaves is changing as the season progresses. The temperature is becoming colder. But the biggest news is the influx of new titles coming to stores later this year. So, sit back. Grab a warm drink, a cozy blanket, and a fluffy friend (real or stuffed) and find your next read or listen with this list.
Fuzz: When Nature Breaks the Law by Mary Roach
Release date – September 14, 2021
You can buy your copy here –
If you use this link, or any others in my post, I may earn a commission, so thank you.
From the Amazon description –
One of Bookpage's Most Anticipated Nonfiction Books of 2021

Join "America's funniest science writer" (Peter Carlson, Washington Post), Mary Roach, on an irresistible investigation into the unpredictable world where wildlife and humans meet.
What's to be done about a jaywalking moose? A bear caught breaking and entering? A murderous tree? Three hundred years ago, animals that broke the law would be assigned legal representation and put on trial. These days, as New York Times best-selling author Mary Roach discovers, the answers are best found not in jurisprudence but in science: the curious science of human-wildlife conflict, a discipline at the crossroads of human behavior and wildlife biology.
Roach tags along with animal-attack forensics investigators, human-elephant conflict specialists, bear managers, and "danger tree" faller blasters. Intrepid as ever, she travels from leopard-terrorized hamlets in the Indian Himalaya to St. Peter's Square in the early hours before the pope arrives for Easter Mass, when vandal gulls swoop in to destroy the elaborate floral display. She taste-tests rat bait, learns how to install a vulture effigy, and gets mugged by a macaque.
Combining little-known forensic science and conservation genetics with a motley cast of laser scarecrows, langur impersonators, and trespassing squirrels, Roach reveals as much about humanity as about nature's lawbreakers. When it comes to "problem" wildlife, she finds, humans are more often the problem―and the solution. Fascinating, witty, and humane, Fuzz offers hope for compassionate coexistence in our ever-expanding human habitat.12 illustrations.
Believing: Our Thirty-Year Journey to End Gender Violence by Anita Hill
Release Date – September 28, 2021
From the Amazon description –
From the woman who gave the landmark testimony against Clarence Thomas as a sexual menace, a new manifesto about the origins and course of gender violence in our society; a combination of memoir, personal accounts, law, and social analysis, and a powerful call to arms from one of our most prominent and poised survivors.
In 1991, Anita Hill began something that's still unfinished work. The issues of gender violence, touching on sex, race, age, and power, are as urgent today as they were when she first testified. Believing is a story of America's three decades long reckoning with gender violence, one that offers insights into its roots, and paths to creating dialogue and substantive change. It is a call to action that offers guidance based on what this brave, committed fighter has learned from a lifetime of advocacy and her search for solutions to a problem that is still tearing America apart.
We once thought gender-based violence–from casual harassment to rape and murder – was an individual problem that affected a few; we now know it's cultural and endemic, and happens to our acquaintances, colleagues, friends, and family members, and it can be physical, emotional, and verbal. Women of color experience sexual harassment at higher rates than White women. Street harassment is ubiquitous and can escalate to violence. Transgender and nonbinary people are particularly vulnerable.
Anita Hill draws on her years as a teacher, legal scholar, and advocate, and on the experiences of the thousands of individuals who have told her their stories, to trace the pipeline of behavior that follows individuals from place to place: from home to school to work and back home. In measured, clear, blunt terms, she demonstrates the impact it has on every aspect of our lives, including our physical and mental well-being, housing stability, political participation, economy, and community safety, and how our descriptive language undermines progress toward solutions. And she is uncompromising in her demands that our laws and our leaders must address the issue concretely and immediately.
Where the Deer and the Antelope Play: The Pastoral Observations of One Ignorant American Who Loves to Walk Outside by Nick Offerman
Release date – October 12, 2021
From the Amazon description –
A humorous and rousing set of literal and figurative sojourns as well as a mission statement about comprehending, protecting, and truly experiencing the outdoors, fueled by three journeys undertaken by actor, humorist, and New York Times best-selling author Nick Offerman
Nick Offerman has always felt a particular affection for the Land of the Free – not just for the people and their purported ideals but to the actual land itself: the bedrock, the topsoil, and everything in between that generates the health of your local watershed. In his new book, Nick takes a humorous, inspiring, and elucidating trip to America's trails, farms, and frontier to examine the people who inhabit the land, what that has meant to them and us, and to the land itself, both historically and currently.
In 2018, Wendell Berry posed a question to Nick, a query that planted the seed of this book, sending Nick on two memorable journeys with pals – a hiking trip to Glacier National Park with his friends Jeff Tweedy and George Saunders, as well as an extended visit to his friend James Rebanks, the author of The Shepherd's Life and English Pastoral. He followed that up with an excursion that could only have come about in 2020 – Nick and his wife, Megan Mullally, bought an Airstream trailer to drive across (several of) the United States. These three quests inspired some "deep-ish" thinking from Nick, about the history and philosophy of our relationship with nature in our national parks, in our farming, and in our backyards; what we mean when we talk about conservation; and the importance of outdoor recreation, all subjects very close to Nick's heart.
With witty, heartwarming stories and a keen insight into the human problems we all confront, this is both a ramble through and celebration of the land we all love.
Music is History by Questlove
Release date – October 12, 2021
From the Amazon description –
Best-selling author and Sundance award-winning director Questlove offers a thrilling, music-driven ride through the last 50 years of American history
In Music Is History, best-selling author and Sundance award-winning director Questlove harnesses his encyclopedic knowledge of popular music and his deep curiosity about history to examine America over the past 50 years. Choosing one essential track from each year, Questlove unpacks each song's significance, revealing the pivotal role that American music plays around issues of race, gender, politics, and identity.
Music Is History focuses on the years 1971 to the present, not only the country's most complex and rewarding half-century when it comes to the ways that pop culture and culturally diverse history intersect and interact, but also the years that overlap with Questlove's own life. Music Is History moves fluidly from the personal to the political, examining events closely and critically, to unpeel and uncover previously unseen dimensions, and encouraging listeners to do the same. Whether he is exploring how Black identity reshaped itself during the blaxploitation era, analyzing the assembly-line nature of disco and its hostility to Black genius, or remembering his own youth as a pop fan and what it taught him about America, Questlove finds the hidden connections in the American tapestry.
Complete with playlists organized around personal, playful themes that touch on everything from the relationship of hip-hop to music's past to the secret ingredient in all funk songs, Music Is History is filled with and informed by Questlove's preferences, perspectives, and particularities. It feels like both a popular history of contemporary America and a conversation with one of music's most influential and unique voices.
Carefree Black Girls: A Celebration of Black Women in Popular Culture by Zeba Blay
From the Amazon description –
Carefree Black Girls is an exploration and celebration of Black women's identity and impact on pop culture, as well as the enduring stereotypes they face, from a film and culture critic for HuffPost.
In 2013, Zeba Blay was one of the first people to coin the viral term carefreeblackgirls on Twitter. It was, as she says, "a way to carve out a space of celebration and freedom for black women online".
In this collection of essays, Blay expands on that initial idea by looking at the significance of influential Black women throughout history, including Josephine Baker, Michelle Obama, Rihanna, and Cardi B. Incorporating her own personal experiences as well as astute analysis of these famous women, Blay presents an empowering and celebratory portrait of Black women and their effect on American culture. She also examines the many stereotypes that have clung to Black women throughout history, whether it is the mammy, the angry Black woman, or more recently, the thot.
A Macmillan Audio production from St. Martin's Griffin
Misfire: Inside the Downfall of the NRA by Tim Mak
Release date – November 02, 2021
From the Amazon description –
A blistering exposé of the National Rifle Association, revealing its people, power, corruption, and ongoing downfall, from acclaimed NPR investigative reporter Tim Mak
The NRA once compelled respect – even fear – from Republicans and Democrats alike. Once a grassroots club dedicated to gun safety, the NRA ballooned into a powerful lobbyist organization that maintained an iron hold on gun legislation in America. This influential nonprofit raised millions in small fees from members across the country, which funded hidden, lavish lifestyles of designer suits, private jets and yachts, martini lunches and Champagne dinners – while the group manipulated legislators and flirted with a Russian spy.
Yet in 2012, the NRA's grip on Washington began to loosen in the wake of the massacre at Sandy Hook Elementary. Facing nationwide outrage, NRA CEO Wayne LaPierre gave a speech claiming the solution was not fewer guns, but more guns, in schools. The group's rhetoric only escalated from there, a misstep that sparked a backlash and invited the scrutiny of the government.
Unveiled here for the first time ever are surprising, revelatory details spotlighting decades of poor leadership and mismanagement by LaPierre; the NRA's long association with marketing firm Ackerman-McQueen; NRA executives' 2015 trip to Moscow, a by-invitation affair packed with meetings with Russian government officials, diplomats, and oligarchs seeking influence in American politics; as well as the power struggle between LaPierre and former NRA president Oliver North that fractured the organization.
Misfire is the result of a four-year investigation by journalist Tim Mak, who scoured thousands of pages of never-before-publicized documents and cultivated dozens of confidential sources inside the NRA's orbit to paint a vivid picture of the gun group's rampant corruption and slow decline, marking a sea change in the battle over gun rights and control in America.
Divine Lola: A True Story of Scandal and Celebrity by Cristina Morato
Release date – Available now
From the Amazon description –
An enthralling biography about one of the most intriguing women of the Victorian age: the first self-invented international social celebrity.
Lola Montez was one of the most celebrated and notorious women of the nineteenth century. A raven-haired Andalusian who performed her scandalous "Spider Dance" in the greatest performance halls across Europe, she dazzled and beguiled all who met her with her astonishing beauty, sexuality, and shocking disregard for propriety. But Lola was an impostor, a self-invention. Born Eliza Gilbert, the beautiful Irish wild child escaped a stifling marriage and reimagined herself as Lola the Sevillian flamenco dancer and noblewoman, choosing a life of adventure, fame, sex, and scandal rather than submitting to the strictures of her era.
Lola cast her spell on the European aristocracy and the most famous intellectuals and artists of the time, including Alexandre Dumas, Franz Liszt, and George Sand, and became the obsession of King Ludwig I of Bavaria. She then set out for the New World, arriving in San Francisco at the height of the gold rush, where she lived like a pioneer and performed for rowdy miners before making her way to New York. There, her inevitable downfall was every bit as dramatic as her rise. Yet there was one final reinvention to come for the most defiant woman of the Victorian age – a woman known as a "savage beauty" who was idolized, romanticized, vilified, truly known by no one, and a century ahead of her time.
Wildland: The Making of America's Fury by Evan Osnos
Release date – September 14, 2021
From the Amazon description –
This program is read by the author.
After a decade abroad, the National Book Award- and Pulitzer Prize-winning writer Evan Osnos returns to three places he has lived in the United States – Greenwich, CT; Clarksburg, WV; and Chicago, IL – to illuminate the origins of America's political fury.
Evan Osnos moved to Washington, DC, in 2013 after a decade away from the United States, first as the Beijing bureau chief at the Chicago Tribune and then as the China correspondent for The New Yorker. While abroad, he often found himself making a case for America, urging the citizens of Egypt, Iraq, or China to trust that even though America had made grave mistakes throughout its history, it aspired to some foundational moral commitments – the rule of law, the power of truth, the right of equal opportunity for all. But when he returned to the United States, he found each of these principles under assault.
In search of an explanation for the crisis that reached an unsettling crescendo in 2020 – a year of pandemic, civil unrest, and political turmoil – he focused on three places he knew firsthand: Greenwich, Connecticut; Clarksburg, West Virginia; and Chicago, Illinois. Reported over the course of six years, Wildland follows ordinary individuals as they navigate the varied landscapes of 21st-century America. Through their powerful, often poignant stories, Osnos traces the sources of America's political dissolution. He finds answers in the rightward shift of the financial elite in Greenwich; in the collapse of social infrastructure and possibility in Clarksburg; and in the compounded effects of segregation and violence in Chicago. The truth about the state of the nation may be found not in the slogans of political leaders but in the intricate details of individual lives, and in the hidden connections between them. As Wildland weaves in and out of these personal stories, events in Washington occasionally intrude, like flames licking up on the horizon.
A dramatic, prescient examination of seismic changes in American politics and culture, Wildland is the story of a crucible, a period bounded by two shocks to America's psyche, two assaults on the country's sense of itself: the attacks of September 11 in 2001 and the storming of the US Capitol, on January 6, 2021. Following the lives of everyday Americans, in three cities, across two decades, Osnos illuminates the country in a startling light, revealing how we lost the moral confidence to see ourselves as larger than the sum of our parts.
A Macmillan Audio production from Farrar, Straus and Giroux
Peril by Bob Woodward and Robert Costa
Release date – September 21, 2021
The transition from President Donald J. Trump to President Joseph R. Biden Jr. stands as one of the most dangerous periods in American history.
But as number one internationally best-selling author Bob Woodward and acclaimed reporter Robert Costa reveal for the first time, it was far more than just a domestic political crisis.
Woodward and Costa interviewed more than 200 people at the center of the turmoil, resulting in more than 6,000 pages of transcripts – and a spellbinding and definitive portrait of a nation on the brink.
This classic study of Washington takes listeners deep inside the Trump White House, the Biden White House, the 2020 campaign, and the Pentagon and Congress, with vivid, eyewitness accounts of what really happened.
Peril is supplemented throughout with never-before-seen material from secret orders, transcripts of confidential calls, diaries, emails, meeting notes, and other personal and government records, making for an unparalleled history.
It is also the first inside look at Biden's presidency as he faces the challenges of a lifetime: the continuing deadly pandemic and millions of Americans facing soul-crushing economic pain, all the while navigating a bitter and disabling partisan divide, a world rife with threats, and the hovering, dark shadow of the former president.
"We have much to do in this winter of peril," Biden declared at his inauguration, an event marked by a nerve-wracking security alert and the threat of domestic terrorism.
Peril is the extraordinary story of the end of one presidency and the beginning of another and represents the culmination of Bob Woodward's news-making trilogy on the Trump presidency, along with Fear and Rage. And it is the beginning of a collaboration with fellow Washington Post reporter Robert Costa that will remind listeners of Woodward's coverage, with Carl Bernstein, of President Richard M. Nixon's final days.
Rationality: What Is It, Why It Seems Scarce, Why It Matters by Steven Pinker
Can reading a book make you more rational? Can it help us understand why there is so much irrationality in the world? Steven Pinker, author of Enlightenment Now (Bill Gates' "new favorite book of all time") answers all the questions here.
Today humanity is reaching new heights of scientific understanding – and also appears to be losing its mind. How can a species that developed vaccines for COVID-19 in less than a year produce so much fake news, medical quackery, and conspiracy theorizing?
Pinker rejects the cynical cliché that humans are simply irrational – cavemen out of time saddled with biases, fallacies, and illusions. After all, we discovered the laws of nature, lengthened and enriched our lives, and set out the benchmarks for rationality itself. We actually think in ways that are sensible in the low-tech contexts in which we spend most of our lives, but fail to take advantage of the powerful tools of reasoning we've discovered over the millennia: logic, critical thinking, probability, correlation and causation, and optimal ways to update beliefs and commit to choices individually and with others. These tools are not a standard part of our education, and have never been presented clearly and entertainingly in a single book – until now.
Rationality also explores its opposite: how the rational pursuit of self-interest, sectarian solidarity, and uplifting mythology can add up to crippling irrationality in a society. Collective rationality depends on norms that are explicitly designed to promote objectivity and truth.
Rationality matters. It leads to better choices in our lives and in the public sphere and is the ultimate driver of social justice and moral progress. Brimming with Pinker's customary insight and humor, Rationality will enlighten, inspire, and empower.
This audiobook includes a PDF of charts and graphs.
PLEASE NOTE: When you purchase this title, the accompanying PDF will be available in your Audible Library along with the audio.
Black Nerd Problems by William Evans and Omar Holman
Release Date – September 14, 2021
From the Amazon description –
A Book Riot Most Anticipated Nonfiction Book of 2021
The creators of the popular website Black Nerd Problems bring their witty and unflinching insight to this engaging collection of pop culture essays on everything from Mario Kart and The Wire to issues of representation and police brutality across media.
When William Evans and Omar Holmon founded Black Nerd Problems, they had no idea whether anyone beyond their small circle of friends would be interested in their little corner of the internet. But soon after launching, they were surprised to find out that there was a wide community of people who hungered for fresh perspectives on all things nerdy, from the perspective of #OwnedVoices.
In the years since, Evans and Holmon have built a large dedicated fanbase eager for their brand of cultural critique, whether in the form of a laugh-out-loud, raucous Game of Thrones episode recap or an eloquent essay on dealing with grief through stand-up comedy. Now, they are ready to take the next step with this vibrant and hilarious essay collection, which covers everything from X-Men to Breonna Taylor with insight and intelligence.
A much needed and fresh pop culture critique from the perspective of people of color, Black Nerd Problems is the ultimate celebration for anyone who loves a blend of social commentary and all things nerdy.
Please Don't Sit on My Bed in Your Outside Clothes: Essays by Phoebe Robinson
With sharp, timely insight, pitch-perfect pop culture references, and her always unforgettable voice, New York Times best-selling author, comedian, actress, and producer Phoebe Robinson is back with her most must-listen book yet.
In her brand-new collection, Phoebe shares stories that will make you laugh, but also plenty that will hit you in the heart, inspire a little bit of rage, and maybe a lot of action. That means sharing her perspective on performative allyship, white guilt, and what happens when White people take up space in cultural movements; exploring what it's like to be a woman who doesn't want kids living in a society where motherhood is the crowning achievement of a straight, cis woman's life; and how the dire state of mental health in America means that taking care of one's mental health – aka "self-care" – usually requires disposable money.
She also shares stories about her mom slow-poking before a visit with Mrs. Obama, the stupidly fake reassurances of zip-line attendants, her favorite things about dating a White person from the UK, and how the lack of Black women in leadership positions fueled her to become the Black lady boss of her dreams. By turns perceptive, laugh-out-loud funny, and heartfelt, Please Don't Sit on My Bed in Your Outside Clothes is not only a brilliant look at our current cultural moment, it's also a collection that will stay with readers for years to come.
Well, I hope you found something to get you through the cooler months coming. If you did, let me know how you liked it. Until then, all aboard, train wrecks.
Make a one-time donation
Make a monthly donation
Make a yearly donation
Choose an amount
Or enter a custom amount
$
---
Your contribution is appreciated.
Your contribution is appreciated.
Your contribution is appreciated.
Donate
Donate monthly
Donate yearly
What's that? You don't have Audible? Never fear. You can use this link https://adbl.co/3n2G69N to get a free copy of my cozy mystery "Nothing Like a Pool Party" and a free 30 day subscription to Audible. Audible is the leading provider of audio books. They have over 180,000 of audio books to choose from. This is the best place for audio books and I cannot recommend it enough.
I love when a new batch of books comes out. I found a few. Most of these are later in the series. Which is ok in the cozy world. It's totally OK to pick up a series in the middle. Who knows? You may find a new favorite. I've included some reviews on the books as well as other books by the author to help you find the perfect cozy read for September. Well, on to the list.
Susan Wittig Albert: Hemlock (This will be the 28th in the China Bayles Mystery Series.) From the Amazon description:
From Susan Wittig Albert, the New York Times bestselling author of A Plain Vanilla Murder, comes a tightly crafted novel that juxtaposes the disappearance of a rare, remarkably illustrated 18th-century herbal with the true and all-too-human story of its gifted creator, Elizabeth Blackwell.
Herbalist China Bayles' latest adventure takes her to the mountains of North Carolina, where her friend Dorothea Harper serves as the director and curator of the Hemlock House Library, a priceless collection of rare gardening books housed in a haunted mountainside mansion that once belonged to Sunny Carswell, a reclusive heiress. But the most valuable book—A Curious Herbal, created by Elizabeth Blackwell in the 1730s—is missing and Dorothea is under suspicion.
China's search for the thief takes on a new urgency when she discovers Miss Carswell's bookseller, the victim of an attempted murder. Is his shooting connected with the theft? And there are other urgent questions: What is the Hemlock Guild? Who owns Socrates.com? Did Sunny Carswell really kill herself, or does her ghost have a different story to tell? And what is the real truth behind the many tantalizing mysteries of A Curious Herbal?
Hemlock is a compelling mix of mystery and herb lore, past secrets and present sins, and characters who are as real as your friends and neighbors—in an absorbing novel that only Susan Wittig Albert could create.
Catherine Bruns: Dessert is the Bomb (This will be the 11th in the Cookies & Chance Mystery Series.) From the Amazon description:
From USA Today bestselling author Catherine Bruns comes a hauntingly hilarious Halloween Cookies & Chance mystery!
Baker turned sometimes-sleuth Sally Muccio has always loved Halloween, but this year she has more on her mind than ghosts and goblins. In addition to catering a party at her wacky father's funeral home, a competing bakery has just moved in across the street from Sally's Samples. The new owner, Celeste Delgado, seems intent on burying Sal's novelty cookie shop into the ground with her sensational smash cake bombs. Suddenly, the homemade fortune cookies that Sal and her best friend Josie create with loving care are predicting an ominous future for their business.
Before Sal can discover what's behind Celeste's grudge, the woman is killed by an explosion. To take the cake, Josie was heard threatening Celeste shortly before her death. A night in the slammer, another deadly explosion, and dangerous family secrets all add to Sal's growing list of concerns. Like an oven timer, precious minutes of her life are ticking away. Can she find Celeste's killer before everything blows up in her face?
*Recipes Included!*
The Cookies & Chance Mysteries:
Tastes Like Murder (book #1)
A Spot of Murder (short story in the "Killer Beach Reads" collection)
Baked to Death (book #2)
Burned to a Crisp (book #3)
Frosted With Revenge (book #4)
Silenced by Sugar (book #5)
A Drizzle Before Dying (short story in the "Pushing Up Daisies" collection)
Crumbled to Pieces (book #6)
Sprinkled in Malice (book #7)
Ginger Snapped to Death (book #8)
Icing on the Casket (book #9)
Knee Deep in Dough (book #10)
Dessert is the Bomb (book #11)
What critics are saying:
"A fantastic cozy mystery!"
—InD'Tale Magazine
"I want to visit more with all of the quirky characters just to see what crazy and outrageous things they will do next!"
—Fresh Fiction
"The Cookies and Chance Mystery series is more than just a series….it's a family !! Once you read the first book, you are hooked and feel like a member of the crazy Muccio family."
—Cozy Mystery Book Reviews
Lynn Cahoon: A Killer Christmas Wish (This will be the 7th in the Cat Latimer Mystery Series.) From the Amazon description:
From NYT bestselling author, Lynn Cahoon, comes a new Cat Latimer mystery. Santa's on his way, but the house Cat shares with her best friend and a monthly writing retreat isn't even decorated yet.Christmas is coming early to Cat Latimer's Writers Retreat. Cat and the gang aren't feeling the Christmas spirit. First up on her to do list, the last retreat of the year. A group of non-fiction authors dying to get into the Covington library. When one writer is found dead before the first retreat session, Cat must find the killer before he puts her on his naughty list.
Review
"One Poison Pie deliciously blendscharm and magic with a dash of mystery and a sprinkle of romance." –AgathaAward winning author Daryl Wood Gerber

"A well-plotted mystery with a romancethat rings true to life." —Kirkus Reviews on A Field Guide to Homicide

"[Cahoon's] beloved for herwhimsical whodunits . . . a delightful mystery." —Woman's World on Sconedto Death.

"A witchy cooking cozy for fans of thesupernatural and good eating." – Kirkus Reviews on One Poison Pie.

"There's Magic in the Air with LynnCahoon's Newest Series."- Fresh Review on One Poison Pie.

"Cahoon excels at characters andsetting, as well as plot, and Memories and Murder is a prime example. A greatchoice for this weekend's reading list!!" – Reading Is My SuperPower.

"Lynn Cahoon has pulled out all thestops and written a story that tugs at the heartstrings and then some!" -AWytch's Book Review Blog on Memories and Murder.

"The Cat Latimer mystery series is somuch rich fun for both readers and aspiring writers, as the writers' retreatprovides such interesting insights and motivations into the creative process."Cooking the Books – Criminal Elements on Sconed to Death.

"Great characters and realisticdialogue made this book a joy to read. I was captivated from beginning to end."~Escape With Dollycas Into A Good Book on Sconed to Death.

"Ms. Cahoon has created a cozyvibe for both the town and for her large Victorian home turned retreat. Hersetting is so inviting I wish I could find something similar to visit!"-Cinnamon, Sugar, and a Little Bit of Murder on Sconed to Death.
Ann Cleeves: The Heron's Cry (This will be the 2nd in the Two Rivers Mystery Series.) From the Amazon description:
New York Times bestseller Ann Cleeves returns with The Heron's Cry, the extraordinary follow-up to The Long Call, soon to be a major TV series, alongside her two hit TV shows Shetland and Vera.

"In Matthew Venn, Ann has created a complex, daring, subtle character." —Louise Penny

"A complex mystery full of surprises . . . this character-driven exploration of people's darkest flaws is a sterling example of Cleeves' formidable talents." —Kirkus Reviews

North Devon is enjoying a rare hot summer with tourists flocking to its coastline. Detective Matthew Venn is called out to a rural crime scene at the home of a group of artists. What he finds is an elaborately staged murder–Dr Nigel Yeo has been fatally stabbed with a shard of one of his glassblower daughter's broken vases.

Dr. Yeo seems an unlikely murder victim. He's a good man, a public servant, beloved by his daughter. Matthew is unnerved, though, to find that she is a close friend of Jonathan, his husband.

Then another body is found–killed in a similar way. Matthew soon finds himself treading carefully through the lies that fester at the heart of his community and a case that is dangerously close to home.

DI Matthew Venn returns in The Heron's Cry, in Ann Cleeves powerful next novel, proving once again that she is a master of her craft.
Review
"In her follow-up to The Long Call (2019), Cleeves provides a complex mystery full of surprises. This character-driven exploration of people's darkest flaws is a sterling example of Cleeves' formidable talents."―Kirkus Reviews (Starred Review)
Nancy Coco (aka Nancy J. Parra and Nell Hampton): Here Comes the Fudge (This will be the 10th in the Candy-Coated Mystery Series.) From the Amazon description:
Fudge shop owner Allie McMurphy never expected her maid of honor duties to include clearing the groom of murder . . .

THE BODY OF A CRIME

It's late spring on picturesque Mackinac Island, Michigan. Allie is prepping her Historic McMurphy Hotel and Fudge Shop for the start of the tourist season and her best friend Jenn's wedding. But when Jenn's fiancé Shane, a crime scene investigator on the island, misses a dinner date, the two friends go looking for him. Led by Allie's bichonpoo Mal into an alley, they come upon Shane standing over a body with a bloody knife in his hand. Shane won't say what's happened, just tells them to call 911. As the CSI is taken into custody by his colleagues, including Allie's beau Rex Manning, the fudge maker vows to prove her friend's fiancé is not a killer—before the ceremony turns into a jailhouse wedding . . .
Praise for Nancy Coco and the Candy-Coated Mysteries
"An easy romantic read complete with fudge recipes that make it even sweeter."
—Kirkus Reviews
"Full of disguises, danger, and one determined amateur sleuth."
—Fresh Fiction
"A fun and fast-paced cozy mystery."
—Criminal Element
Help support pet adoption—see details inside the book.
Krista Davis: Murder Outside the Lines (This will be the 3rd in the Pen & Ink Mystery Series.) From the Amazon description:
With Halloween just around the corner, the fall colors in Georgetown are brilliant. As manager of the Color Me Read bookstore, coloring book creator Florrie Fox has arranged for psychic author Hilda Rattenhorst to read from Spooktacular Ghost Stories. But the celebrity medium arrives for the event in hysterics, insisting she just saw a bare foot sticking out of a rolled-up carpet in a nearby alley. Is someone trying to sweep murder under the rug? Florrie calls in her policeman beau, Sergeant Eric Jonquille, but the carpet corpse has disappeared without a trace. Then in the middle of her reading, Hilda chillingly declares that she feels the killer's presence in the store. Is this a publicity stunt or a genuine psychic episode? It seems there's no happy medium. When a local bibliophile is soon discovered missing, a strange mystery begins to unroll. Now it's up to Florrie and Jonquille to expose a killer's true colors . . .
Vicki Delany (aka Eva Gates): Deadly Summer Nights (This will be the 1st in the NEW Catskill Summer Resort Mystery Series.) From the Amazon description:
"An immersive setting with details of running a Catskillsresort in the 1950s (think Kellerman's in Dirty Dancing) beautifully frame a story with plot twists and a cast of well-delineated characters."–Booklist

A summer of fun at a Catskills resort comes to an abrupt end when a guest is found murdered, in this new 1950s set mystery series.

It's the summer of 1953, and Elizabeth Grady is settling into Haggerman's Catskills Resort. As a vacation getaway, Haggerman's is ideal, and although Elizabeth's ostentatious but well-meaning mother is new to running the resort, Elizabeth is eager to help her organize the guests and the entertainment acts. But Elizabeth will have to resort to untested abilities if she wants to save her mother's business.

When a reclusive guest is found dead in a lake on the grounds, and a copy of The Communist Manifesto is found in his cabin, the local police chief is convinced that the man was a Russian spy. But Elizabeth isn't so sure, and with the fate of the resort hanging in the balance, she'll need to dodge red herrings, withstand the Red Scare, and catch a killer red-handed.
Review
"Delany's gift with character is front and center in this novel…This is a great start to a new series–vivid, well-written, and snappy."–Mystery Scene

Praise for Vicki Delany's Year-Round Christmas Mystery Series

"Delightful…[A] humorous tinsel-covered tale that made me laugh out loud even while keeping me guessing."—Jenn McKinlay, New York Times bestselling author

"Witty writing, an unexpected solution, and truly likable characters ensure that the appeal of this holiday-themed series will last long past the Yule season."—Kings River Life Magazine"

This is a cozy mystery filled with murder, mayhem, warmth, and Christmas cheer. What more could you want?"—Carstairs Considers

"Delany has given us a story full of holiday cheer, an exciting mystery, wondrous characters all in a place I would love to really visit. Its charm just lit up my day. This is one mystery you shouldn't miss this holiday season."—Escape with Dollycas into a Good Book
Leighann Dobbs: Claw and Order (This will be the 8th in the Mystic Notch Cozy Mystery Series.) From the Amazon description:
Bookstore owner Willa Chance had no idea that a magical key was hidden in the old recipe book that she sold to food blogger Mary Ashford. Luckily the key is now safely tucked away in a box high on a shelf in the bookstore…. or is it?
Feline sleuth Pandora needs Willa's help to make sure that key doesn't fall into the wrong hands. This time she'll have to take drastic measures to break through the barrier that has stopped her from communicating with her human… even if she has to take a chance on one of Pepper St. Onge's enchanted teas. The teas are known to have unpredictable results, but Pandora is desperate and what could be worse than the threat to Mystic Notch?
The results of drinking the tea are worse than Pandora could have ever imagined. But not worse than murder. Which is exactly what happens to Mary Ashford. And if Pandora and Willa don't figure out who is behind this, Mary won't be the only one who ends up dead.
Sofie Kelly (aka Sofie Ryan & Darlene Ryan for Young Adult): Hooked on a Feline (This will be the 13th in the Magical Cats Mystery Series.) From the Amazon description:
Librarian Kathleen Paulson and her inquisitive cats find themselves in a jam when a musician turns up dead, in the newest installment of this New York Times bestselling series.

It's summer in Mayville Heights, and Kathleen Paulson and her detective boyfriend Marcus, are eager to attend the closing concert of the local music festival. The concert is a success, but then one of the band members is discovered dead shortly after it. At first it's assumed the death is a robbery gone wrong, but Kathleen suspects foul play—and she's certain that she, along with her trusty side-cats, Owen and Hercules, can help solve the murder.

Before his death, Kathleen had noticed the victim in the library researching his genealogy, and when she and Marcus take a closer look at the man's family tree, they begin to think a previous death of one of his relatives now seems suspicious. The more Kathleen thinks about it, the more this murder feels like it could be an encore performance. Kathleen and her cats will need to act fast and be very careful if they want to stay off of a killer's hit list.
Review
Praise for the New York Times Bestselling Series

"Cozy readers will enjoy spending time with Kathleen, her cats, and the appealing residents of Mayville Heights."—Publishers Weekly

"Will delight fans of cat mysteries and Jenn McKinlay's Library Lover's series."—Library Journal

"Ms. Kelly continues her highly successful series with another winning tale…Lots of great characters and two adorable cats."—Fresh Fiction

"Owen and Hercules are a delight."—Kings River Life Magazine

"With great characters and an interesting story, readers will be in for a treat with this classic whodunit."—RT Book Reviews
Laura Levine: Murder Gets a Makeover (This will be the 18th in the Jaine Austin Mystery Series.) From the Amazon description:
Writer-for-hire Jaine Austen, living in L.A. with her cat, Prozac, appreciates one of the perks of working freelance—a wardrobe that's heavy on elastic waists. But her BFF, Lance, has a makeover in mind, and it's about to lead to murder . . .

Uber-stylist Bebe Braddock plans to juice up her Instagram feed, and thinks Jaine would make a perfect "Before & After" model. At Lance's insistence Jaine is ushered into Bebe's sprawling Brentwood spread to await her transformation. Yet, while the surroundings are glamorous, the atmosphere is toxic as Bebe bullies her team of assistants, and even her husband, into obeying her every whim.

Having earned the wrath of everyone in her orbit, few are shocked when Bebe is found strangled with one of her detested wire hangers. But Jaine's prints are all over the murder weapon, making her a prime suspect. The police, however, aren't the only ones showing interest in her—so is Justin, Bebe's very cute, very young personal assistant. While Jaine navigates a cougar-style romance, Prozac is mistakenly hailed as a feline hero and catapults into internet fame. Still, there are more urgent matters at hand than Prozac's swelling ego. Because unless Jaine can track down Bebe's killer and clear her own name, the only new outfit she'll be modeling is an orange prison jumpsuit. . .

Review
OUTSTANDING PRAISE FOR LAURA LEVINE'S
JAINE AUSTEN MYSTERIES

DEATH OF A GIGOLO
"A solid mystery. . . . Fans of Mary Daheim and Tamar Myers will appreciate the comedy."
—Library Journal

"Cozy fans are in for a treat."
—Publishers Weekly

"This cozy will delight fans who like a sharp comeback—and maybe a tater tot on the side."
—Kirkus Reviews

DEATH OF A NEIGHBORHOOD SCROOGE
"This is a thoroughly enjoyable cozy with just the right balance of crime, humor, and holiday spirit."
—Publishers Weekly (Starred Review)

MURDER HAS NINE LIVES
"Jaine pursues justice and sanity in her usual hilarious yet smart way, with Levine infusing wit into her heroine's every thought. A thoroughly fun read that will interest Evanovich fans."
—Booklist

"Another expertly conceived whodunit."
—Fresh Fiction

KILLING CUPID
"Jaine is absolutely hysterical . . . this author continues to write the best cozies."
—Suspense Magazine

DEATH OF A NEIGHBORHOOD WITCH
"Levine's latest finds her at her witty and wacky best."
—Kirkus Reviews

THIS PEN FOR HIRE
"Laura Levine's hilarious debut mystery, This Pen for Hire, is a laugh a page (or two or three) as well as a crafty puzzle. Sleuth Jaine Austen's amused take on life, love, sex and L.A. will delight readers. Sheer fun!"
—Carolyn Hart
Archer Mayor: Marked Man (This will be the 32nd in the Joe Gunther Mystery Series.) From the Amazon description:
In Archer Mayor's Marked Man, the death of a local millionaire becomes suspicious when Joe Gunther learns that he was not who he claimed.
A year ago, local philanthropist and millionaire Nathan Lyon died a natural death in his sprawling mansion, a 150,000 square foot converted mill, surrounded by his loving, attentive family. Or so it seemed at the time. Now Joe Gunther and his Vermont Bureau of Investigation team has discovered that almost nothing about that story was true. Nathan Lyon was actually Nick Bianchi from Providence, Rhode Island. His money came from Mafia-tainted sources. And his family now seems to be dying themselves and their deaths are now revealed to be murders.
As Gunther's team desperately works to uncover what is going on at The Mill, who is responsible and what they are trying to accomplish, Joe himself travels to Rhode Island to look into the original source of the money. While the police are doing their jobs, private investigator Sally Kravitz teams up with reporter Rachel Reiling to expose the truth behind this tangled and expanding web of duplicity, greed, and obsession. Having betrayed many, it's no surprise that Nathan Lyon was a marked man. But now Gunther has to figure out who, among the many, killed him, and stop them before their killing spree claims another.
Andrea Penrose: Murder at the Royal Botanic Gardens (This will be the 5th in the Wrexford & Sloane Mystery Series.) From the Amazon description:
A thrilling new mystery novel from the acclaimed author of Murder at Queen's Landing, perfect for fans of Deanna Raybourn and Anne Perry! The wedding of the Earl of Wrexford and Lady Charlotte Sloane is not-to-be-missed, but the murder of a brilliant London scientist threatens their plans—and their lives…

One advantage of being caught up in a whirl of dress fittings and decisions about flower arrangements and breakfast menus is that Charlotte Sloane has little time for any pre-wedding qualms. Her love for Wrexford isn't in question. But will being a wife—and a Countess—make it difficult for her to maintain her independence—not to mention, her secret identity as famed satirical artist A.J. Quill?

Despite those concerns, there are soon even more urgent matters to attend to during Charlotte and Wrexford's first public outing as an engaged couple. At a symposium at the Royal Botanic Gardens, a visiting botanist suffers a fatal collapse. The traces of white powder near his mouth reveal the dark truth—he was murdered. Drawn into the investigation, Charlotte and the Earl learn of the victim's involvement in a momentous medical discovery. With fame and immense fortune at stake, there's no shortage of suspects, including some whose ruthlessness is already known. But neither Charlotte nor her husband-to-be can realize how close the danger is about to get—or to what lengths this villain is prepared to go . . .

Review
Praise for the Wrexford & Sloane Historical Mystery series

MURDER AT QUEEN'S LANDING

"Scientific discoveries combine with a complex mystery to provide an action‑packed brainteaser."
—Kirkus Reviews

"The author captures the Regency era's complexities in vivid settings, contrasting milieus, and a wealth of fascinating details."
—Publishers Weekly


MURDER AT HALF MOON GATE

"Penrose deftly combines a Regency romance with a tricky mystery that delves into social unrest and the darker side of this storied period."
—Kirkus Reviews

"Its complex story line and authentic historical details bring the early days of the Industrial Revolution vividly to life. Bound to fascinate readers of C.S. Harris and even fans of Victorian mysteries."
—Library Journal,Starred Review

"The relationship and banter between the two stars of this series is incredible. Readers will look forward to seeing Charlotte and Wrex again (and hopefully very soon)."
—Suspense Magazine

"Penrose reveals intriguing new aspects of her protagonists' characters and relationship in a story linked to the era's technological and social changes."
—Publishers Weekly

MURDER ON BLACK SWAN LANE

"Thoroughly enjoyable . . . with sharp, engaging characters, rich period detail, and a compellingly twisty plot, Andrea Penrose delivers a winner . . . Fans of C.S. Harris and Kate Ross will be rooting for Charlotte Sloane and the Earl of Wrexford. Devilishly good fun!"
—Deanna Raybourn, New York Times bestselling author

"Fans of C.S. Harris take note! In this new, Regency-set mystery series, the artist Charlotte Sloane and the scientist Earl of Wrexford are the perfect mismatched pair of sleuths. A riveting ride through Regency London, from the slums of St. Giles, to the mansions of Mayfair."
—Lauren Willig, New York Times bestselling author

"A wonderfully engaging Regency mystery, with a most determined heroine and an engaging pair of street urchins at her side. Historical chemistry meets alchemy, and only a nonchalant nobleman can help solve the murder. A delight of a book."
—Joanna Bourne, award-winning author

"A female 19th-Century cartoonist as an amateur sleuth is a welcome innovation."
—Publishers Weekly

MURDER AT KENSINGTON PALACE

"Penrose does a good job linking the mystery to the period's scientific and social changes. Those seeking an unusually rich lookat Regency life will be satisfied."
—Publishers Weekly

"Penrose is excellent at conveying the details of early 19th-century science and experiments with electricity. This was the era of Frankenstein, after all. The relationship between Wrexford and Charlotte is further developed in this book, and I am looking forward to seeing where it leads next."
—Historical Novel Society

"Penrose deftly intertwines the politics of navigating Regency-era society, scientific progress, and the deepening relationship between the protagonists. Series fans will enjoy revisiting the lively cast of characters, while historical fiction readers will be satisfied by the immersive, richly detailed mystery."
—Library Journal

"Murder at Kensington Palace is a challenging story, replete with scientific discoveries and challenges of the time, but it's grounded in loyalty, persistence, and courage."
—Criminal Element

"Science and romance meet in a high-stakes cat-and-mouse game."
—Kirkus Reviews
Anne Perry: A Darker Reality (This will be the 2nd in the Elena Standish Mystery Series.) From the Amazon description:
A personal trip turns perilous for Elena Standish after the murder of a British spy forces her to face dark family secrets in this exciting 1930s mystery by bestselling author Anne Perry.

On her first trip to Washington, D.C., Elena Standish finally gets to visit her American mother's wealthy parents and their magnificent home. Elena's grandparents are marking a milestone anniversary by throwing an elaborate party with the influential friends of her grandfather, a prominent political industrialist. Even President and First Lady Franklin and Eleanor Roosevelt are there, and Elena takes pride in capturing the illustrious guests on camera. But the festivities come to a sudden and tragic end when one of the guests, Lila Worth, is run over by a car in the driveway outside. Elena believes Lila was trying to tell her something before her death, and when a call from her employer back home, MI6, confirms that Lila was a British spy, Elena pairs with a fellow agent to find out what vital information the young woman had in her possession.

Soon an arrest is made in Lila's murder, and to Elena's horror, the accused is none other than her own grandfather, who claims his political enemies are trying to frame him. But who are these enemies, and how can Elena defend this man she barely knows? Nevertheless, determined to clear his name and save her family from disgrace, she delves into the details of her grandfather's investments and discovers that his business secrets run deep. As Elena begins to question his loyalties, she wonders if she can trust anyone in this threatening new world order.
Review
Praise for A Question of Betrayal

"[Anne] Perry ties her story-strands together in convincing fashion, in a work whose twentieth-century setting seems to have brought out new psychological and descriptive nuances in an author better-known for her Victorian-era novels."—The Wall Street Journal

"[An] excellent sequel . . . Perry expertly blends character development with plot surprises. This prolific author shows no sign of losing steam."—Publishers Weekly (starred review)

"Suspenseful and tense . . . [A Question of Betrayal] shows how brilliant a writer and plotter Anne Perry is."—Bookreporter

Praise for Death in Focus

"Readers who love historical mysteries know that some of the most dramatic stories are set in the interim between the two world wars, when both the victors and the vanquished felt uneasy about their provisional hold on peace. Anne Perry stakes a strong claim to that unstable terrain in Death in Focus . . . the first book in a new series that opens in 1933 as Elena Standish, a resourceful photographer, is caught up in the world of international intrigue."—The New York Times Book Review

"Death in Focus [is] reminiscent of works by Eric Ambler and Graham Greene. Cameo appearances by historical figures . . . enhance this thrilling work. . . . Perry conjures the mixed emotions and misplaced optimism of a period when many Establishment figures were desperate to avoid another world war."—The Wall Street Journal

"Perry has found the perfect time period to showcase a family's impassioned defense of democracy and social justice in the face of rising totalitarianism. . . . At turns heartbreaking and action-packed, this gripping and superbly written story proves Perry still has what it takes."—Library Journal (starred review)
Rose Pressey: Murder Can Frost Your Donut (This will be the 4th in the Haunted Craft Fair Mystery Series.) From the Amazon description:
The ghost of an Elvis impersonator has got psychic painter Celeste Cabot all shook up . . .

Celeste has pulled up in her pink Shasta trailer, aka mobile art studio, to the Sevier County Fair in the mountains of eastern Tennessee to sell her paintings. A highlight of the fair promises to be the celebrity impersonation contest. But the low point is when Celeste and her floppy-eared white Chihuahua Van (short for Van Gogh) find an Elvis impersonator in his trailer doing a great impression of a corpse, clutching a doughnut in his hand.

Seeking a vision to solve the crime, Celeste paints her own Elvis portrait—and suddenly the ghost of the Elvis impersonator appears. They say fools rush in, but with the help of this spirit, Celeste sets out to find the real killer among all the fake celebrities. It's now or never, because there won't be time to tell the killer: "Don't be cruel."

Includes tips and recipes!
Praise for the Haunted Craft Fair Mysteries
"[A] plucky self-employed heroine, cute pet, scary ghost, and two eligible suitors: everything a cozy needs."
—Kirkus Reviews

"The paranormal twist adds a bit of flair to this quirky new series."
—The Parkersburg News & Sentinel
Dorothy St. James: A Perfect Bind (This will be the 2nd in the Beloved Bookroom Mystery Series.) From the Amazon description:
Librarian Tru Beckett, ardent defender of the printed word, is about to find out that keeping murder checked out of her beloved library is much harder than she thought…
Tru Beckett succeeded in building a secret book room in her now bookless library, where book lovers from lovely Cypress, South Carolina, can rejoice in the printed word. Now she's working hard to maintain the little library downstairs while keeping her "real job" upstairs in the bookless technology center. The last thing she needs is a mysterious vandal who seems intent on breaking into her secret book-filled sanctuary and creating chaos. The nasty interloper doesn't steal anything, but brutalizes the books, damaging them and knocking them off shelves.
A patron of the secret book room tells Tru that there have been creepy goings-on at the library for years, especially in the basement where the secret book room is located. He's heard rumors of a poltergeist that haunts the library, determined to scare off readers. Tru is certain it's hogwash, but she's at a loss to think of who might be vandalizing the beautiful books she fought so hard to protect. And when a dead body shows up right behind the library, Tru is certain that it's not a ghost but a cold-blooded killer that she and her trusty tabby Dewey Decimal will need to uncover.
Kari Lee Townsend: Chaos and Cold Feet (This will be the 7th in the Sunny Meadows Mystery Series.) From the Amazon description:
Psychic Sunshine Meadows can't predict just how tricky tying the knot can be…
After finally picking the perfect date, Sunny and her fiancé Detective Mitch Stone are about to get married, and even her mischievous cat Morty seems to be on board. This time her best friend and her friend's husband are the maid of honor and best man, but they have brand new baby twin boys who need to be baptized first. Just as soon as the ceremony for the babies is finished, Sunny and Mitch's wedding will take place. Except everything that can go wrong does go wrong, and Sunny develops cold feet, feeling it's an omen she can't ignore. Mitch convinces her to work with him in figuring out who is sabotaging their wedding and promises to warm her up until death do they part.
I hope this helps fill your September TBR. Tell me, did you find a new addition to your bookshelf?
Happy reading.
You may be wondering how I read so many books. Simple. I use Audible. Audible is the leading provider of audio books. They have over 180,000 of audio books to choose from. Click this link – https://adbl.co/3teLwiR for a free 30 day trial of Audible and a free copy of the 1st in my cozy mystery series "Nothing Like a Pool Party." This is the best place for audio books and I cannot recommend it enough.
Make a one-time donation
Make a monthly donation
Make a yearly donation
Choose an amount
Or enter a custom amount
$
---
Your contribution is appreciated.
Your contribution is appreciated.
Your contribution is appreciated.
Donate
Donate monthly
Donate yearly